Mom buys gadgets
My husband and I took a couples' cooking class at a local cookware store/cooking school called Crate a couple of weeks ago. It was a fun thing to do together and I took a lot of photos but decided it wasn't worth blogging about since we didn't prepare anything really exotic or difficult and I'm not sure I learned anything new. Actually, the chef did tell us that shrimp shells contain flavorful fat directly underneath them; and he had the group who were preparing the first course use the shells in making the sauce. They fried them in olive oil and gave them a brief simmer in some stock, which was reduced to make a glaze. I'm sure I will think twice before simply throwing the shells away next time I'm peeling shrimp.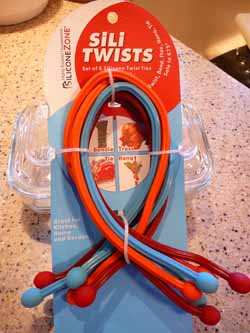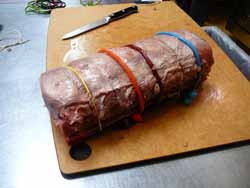 Anyway, for me the best thing about the class besides having a nice time with Bill and a great meal was the opportunity to browse in the store and look at new products. I haven't been in a kitchen store for awhile and I think innovation seems to be in silicone. We roasted a pork loin in the class, and the chef had boned it, and wanted to roast it together with the bones. He asked for some kitchen twine and the store owner gave him these silicone twist ties from Silicone Zone hold it together. I asked her about the silicone loops I've read about on the internet and she said they were carrying them but had bad reports about that design not holding and being difficult to use. Naturally I had to buy some although I don't actually bundle, truss, or tie things when I cook very often. When I do, though, I will be prepared. Or they will be something for my sons to throw away when they put me in the nursing home because they will be tangled up in the back of the gadget drawer covered with greasy kitchen grime and the boys won't know what they are.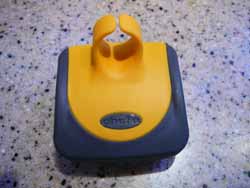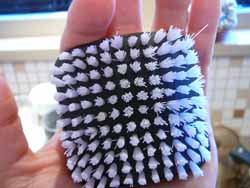 But the gadget I really loved was this Chef'n vegetable brush. Look at the unique design; the little ring thing on the back slides over your middle finger and it snuggles into your palm like a nursing baby into its mothers bosom. New potatoes will be with us soon, and this will be the perfect gadget for scrubbing them; a brush with a handle is just too clumsy when dealing with cleaning small items. I was thinking how much easier it would have been to scrub the mussels if I had had this brush a few weeks ago. I may not end up using the Sili-Twists very often, but this brush I will use again and again.