Mom bakes and she cooks
I'm back, baby!
Did you ever have one of those cold/flu/sick things where you weren't sure if you were really sick or just malingering? You all know Bill and I just got home from our trip combined with Thanksgiving in Maryland, so imagine how much catching up I had to do when we got back to Pittsburgh. I got this coughing, sneezing thing that was accompanied by the worst kind of weakness I've had since I was pregnant. Every time I thought I'd just take a shower and get on with things I'd find myself barely able to lift the hair dryer, let alone put my jammies back on and get back in bed. On Saturday my husband asked me how much longer this sick thing was going to last because he was out of socks. Um, that just made me roll over and groan.
Anyway, today I felt so much better that I tackled that mountain of laundry, went to two dry cleaners (coupons), and did a huge grocery shop. When I tell you I spent $150 at Aldi you know how much food I bought since they practically give their groceries away. Then I started a loaf of sandwich bread and tended to the no-knead bread which I had mixed up last night and left to rise in the microwave (just to get it out of the way). After that I began preparing our dinner which I'll tell you about in a minute.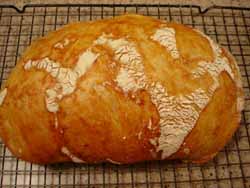 First I want to talk about my experience with the bread that swept Manhattan (and the rest of the food blog world). Probably because I'm still a bit convalescent, I didn't read the directions as carefully as I normally would. Plus my house is a bit cool in the winter, so I was concerned that I wasn't getting the proper rise. I kept looking for big bubbles in the first rise, and later, when I read the recipe again I saw that it said simply "dotted with bubbles". I had already determined that I was going to use parchment paper rather than a tea towel because I couldn't imagine scraping sticky dough off a towel, but that may have been a mistake. When I dumped the dough out on the paper there was some liquid sort of underneath it, possibly alcohol beginning to ferment? Anyway, it soaked the parchment, but a towel probably would have just absorbed it. I was also confused by the directions to shape the dough into a ball; there was no possibility of shaping this dough. It just oozed all over the parchment paper like the original Blob. And finally, I was upstairs folding my mountain of laundry while it was baking and didn't hear the timer go off after the first 30 minutes, and in my anxiety not to overbake it, only baked it uncovered for about 12 additional minutes. Instead of being light and airy inside it was a little bit doughy. Then I again read the recipe (too late!) and saw that it directs you to bake uncovered for 15-30 minutes, or until "beautifully browned", so I shouldn't have been anxious and just left it in there as long as it needed. But it still tasted good, had a better crust than any bread I've ever made in my life, was easier than buying bread at the bakery, and is definitely worth trying again.
Now, our dinner. Is there anyone, aside from vegetarians, who doesn't like meatballs? I knew I'd have the no-knead bread finished by dinner-time and wanted something with savory juices worth mopping up to eat with it. I also had a pound of nice ground chuck in the refrigerator, and I remembered a recipe I used to make when Jon and Leland were small, from Marcella Hazan's More Classic Italian Cooking, Polpettine Invernali con la Verza, or Winter Meatballs with Savoy Cabbage. I used to cook frequently from both this book and the first one, Classic Italian Cooking back in the 80s. I think they may be combined into one volume now, but meanwhile I should dust mine off and revive some old favorites.
Serves 4-6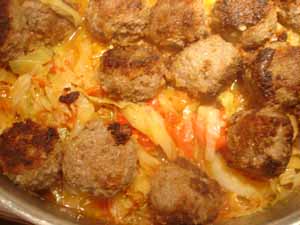 A slice of good solid white bread, without the crust
1/3 cup milk
1 pound ground chuck
2 ounces pancetta chopped very fine
1 egg
salt and pepper
1 tablespoon chopped parsley
3 tablespoons freshly grated Parmesan cheese
2 tablespoons onion chopped fine or grated
1 cup fine, dry, unflavored bread crumbs, spread on a plate
1/3 cup vegetable oil (I used olive oil)
1 head Savoy cabbage
2 tablespoons olive oil
2 teaspoons chopped garlic
2/3 cup canned plum tomatoes, drained and cut up
1. Put the bread and milk into a small saucepan and turn the heat to low. When the bread has completely soaked up all the milk, mash it to a fine pulp with a fork. Turn off the heat, and set it aside to cool. (I did this in a small bowl in the microwave.)
2. Put the chuck, pancetta, egg, salt, pepper, parsley, Parmesan, onion, and the bread-and-milk mush into a large bowl. Mix all the ingredients thoroughly. Shape the mixture into meatballs about 1 1/2 inches across. Roll in bread crumbs.
3. Choose a sauté pan large enough to accommodate all the meatballs in a single layer. Put in all the vegetable oil and turn on the heat to medium high.
4. When the oil is quite hot, slip in the meatballs. Brown them nicely on all sides, turning them gently. When they are done, transfer them to a platter lined with paper towels, and turn off the heat. Do not empty the pan.
5. Discard any bruised or blemished leaves off the cabbage. Shred the rest of the cabbage into strips of about 1/4 inch wide, and discard the core.
6. Into the meatball pan, put the olive oil and the chopped garlic. Turn on the heat to medium. When the garlic becomes colored gold add all the cabbage. Don't burn the garlic! Stir and turn the cabbage thoroughly. Cover the pan and turn the heat down to a low simmer.
7. Cook the cabbage, turning it from time to time, for 40 minutes to 1 hour, until it is very soft and is reduced to a third of its original bulk. Add a liberal amount of salt and pepper, bearing in mind that the cabbage is sweet and will take considerable seasoning. If in doubt, taste.
8. Turn up the heat to medium, and with the pan uncovered, cook the cabbage, turning it from time to time, until it becomes colored a light nut brown.
9. Add the tomatoes and cook for 10 minutes, stirring occasionally. (I used a bit more tomato because I wanted it juicier.)
10. Return the meatballs to the pan, turning them well, cover the pan, and turn the heat down to low. Cook for 10 minutes, turning them 2 or 3 times. Serve piping hot.
p.s. I forgot to say that somewhere in there I also made a batch of applesauce! I'm tired now…