Martha Stewart's pumpkin bread
Christmas lasted almost a solid month for me this year, with the first gift exchange happening early in December with Nathan before he left for a business trip, and the last with Nathan's parents in Georgia over New Year's. I'm exhausted, and I'm not excited to be back at work, but I'm thrilled with my beautiful presents! Among them was an item that wouldn't fit in the downtown kitchen, but that is well at home here in Harlem.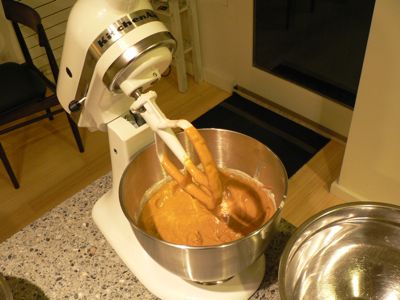 I thought I wanted the Cuisinart, but that was mainly because I felt as though I had missed the boat with the Kitchen-Aid. I see so many of them that are never used, which must have left me with a weird impression of this particular appliance. But I couldn't be happier that this was Mom's choice! It's small, it's powerful, and it's already made my baking life easier. I baptized it last night with Martha Stewart's pumpkin bread (from my current favorite baking book). Other than being underbaked by about five minutes (I'm still getting used to this surprisingly crappy new oven), it's good, and it's not so sweet that you can't have a slice for breakfast, spread with some cream cheese.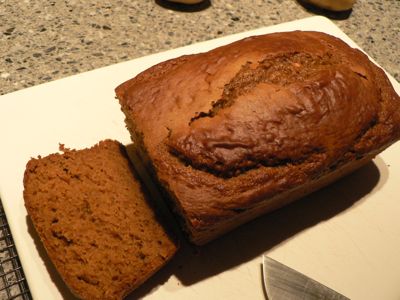 Pumpkin bread (makes two 8.5″ × 4.5″ loaves)
3 cups A-P flour
2 tsp baking powder
2 tsp baking soda
2.5 tsp ground cinnamon
.5 tsp nutmeg (I've been using fresh nutmeg for about a year now. If you have never tried it, you should.)
.25 tsp ground allspice
.25 tsp salt
2 cups canned pumpkin purée
1 cup granulated sugar
1 cup packed dark-brown sugar
4 large eggs
1/4 cup vegetable oil
1 2/3 cup buttermilk
Preheat the oven to 350ºF and coat your pans with butter. Whisk together the flour, baking powder and soda, spices, and salt. In the bowl of an electric mixer (yay!) fitted with the paddle, combine the pumpkin and sugars. Mix until well combined, and then add the eggs and oil. Mix until incorporated, scraping down the sides as needed. With the mixer on low, add the flour in two batches, alternating with the buttermilk, and mix until just combined.
Bake for about an hour, rotating the pans halfway through. A cake tester should come out clean. Cool the pans on a rack for ten minutes, remove the loaves from the pans, and cool completely.