Martha Stewart's caramel nut bars
First, a warning—DO NOT MAKE THESE! THE RECIPE DOES NOT WORK!! I sent Martha Stewart a sharply worded email to that effect but haven't heard back from her.
Now, the discussion—I got Martha's new baking book for Christmas and this is actually the first time I have tried making anything out of it. It's been by my bed and I've read the whole thing, though, and this is the recipe that probably attracted me the most. I'm a sucker for the mix of sweet and salty; think of Payday candy bars and chocolate-covered pretzels, and this is a shortbread base covered with a caramel topping mixed with assorted salted nuts. That sounded heavenly to me, even if the recipe was a little more work than you want in a bar cookie. For instance, you have to make home-made caramel, using a candy thermometer, and you have to roast all the nuts and chop them. I did take a short cut by mixing the shortbread in the food processor instead of the mixer, which is always easier and quicker, but still.
Anyway, I was willing to go to the trouble if I would have spectacular cookies at the end. Another annoyance is that the recipe carries over onto the next page of the cookbook, so that I had to keep turning the page back and forth, which was also at a place in the book that was stiff with a photo section so it wouldn't stay turned, or even open. I think cookbooks should be laid out so recipes never do that, make you have to flip pages back and forth.
Well, I burned the first batch of sugar syrup, and you all know how easy that is to do from my post on flan, but in this case I wasted 4 cups of sugar, which I had to throw down the sink. I started over again and got it right this time, watching closely when it began to get near the temperature I needed. Then I mixed heavy cream and butter into the syrup and let it cool for a bit, all as called for in the recipe, eventually adding the nuts, pouring over the baked cookie base and putting into the oven for, as the recipe said '10 minutes, or until set'. As soon as I read that I knew it would never work. There was simply nothing in the topping, such as eggs, to make it 'set', and no amount of baking would make it do so. But after wasting all that time and expensive ingredients I figured Martha and her assistants must test these recipes, musn't they? So I persevered, although doubled the baking time. Of course, it wasn't set when it came out of the oven; the caramel topping was slopping all over. But by then I knew that more baking wouldn't really help. You try baking caramel—heat softens it, it doesn't firm it up! So I figured that maybe thorough cooling would 'set' it.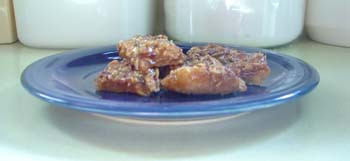 The way the cookies look in the photo is as good as they got, shortly after cutting them. As time passed the topping began ever so slowly to creep and run like some kind of primordial ooze. I had taken them between layers of waxed paper to an all day event and what I was left with was waxed paper fused together by layers of nutty caramel. Huge disappointment and tremendous irritation with Martha. Maybe she has pounds of sugar, nuts, butter, and pints of heavy cream to waste but I do not.