Mama's got a brand new bag
I've had a huge roasting chicken clogging up my freezer for over a month now and yesterday was browsing through some cookbooks, looking for something a little different to do with it. I ran across a recipe in my old New York Times cookbook that I've seen elsewhere and have always been intrigued by, Chicken in a Brown Paper Bag. For some reason I've never gotten around to preparing chicken using this method, even though I've always wondered how it would turn out.
It seemed like a good day to do it; the weather was warm but not so hot that I couldn't bear to turn on my oven, and the recipe calls for a fairly low oven temperature anyway, just 325º, for a longer cooking time than I usually roast a chicken for. Presumably a higher temperature might burn the bag, and the bag keeps the chicken moist enough that the long roasting time doesn't adversely affect it.
My opinion of roasting a chicken this way? Eh…. Is it just a gimmick? Probably. There did seem to be more flavorful juices collected in the bottom of the bag than you usually get with a standard roast chicken, I guess because it's sort of covered so the juices don't cook away the way they would normally do. They made a nice sauce with the fat skimmed off and boiled down a bit, while the chicken was resting. I'm not sure I liked this roast chicken better than the one I usually make, but we have some lovely leftovers for sandwiches and salad now.
Chicken Roasted in a Bag, from the New York Times Cookbook, by Craig Claiborne, 1990 edition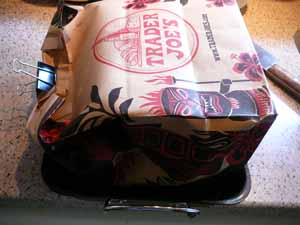 1 (5-pound) roasting chicken (mine weighed 6 pounds)
1 teaspoon salt
1/4 teaspoon pepper
1 teaspoon fresh rosemary or 1/2 teaspoon dried
1/2 teaspoon ground cumin
1/2 teaspoon paprika (I used my beloved smoked paprika )
1 garlic clove, minced or put through a press
1/4 cup olive oil
1. Truss the chicken. (I never bother with trussing but you may do this if you like.)
2. Combine the olive oil with all the seasonings and set this mixture aside for 30 minutes to develop the flavor.
3. Preheat the oven to 325º F.
4. Rinse the chicken and pat dry. Rub the entire surface with the oil mixture. Put chicken into a heavy brown paper bag, close the bag, and put it into a roasting pan. I used a metal binder clip to hold my bag closed. Bake for 2 1/2 to 3 hours, or until done. My 6-pound chicken took about 3 1/2 hours.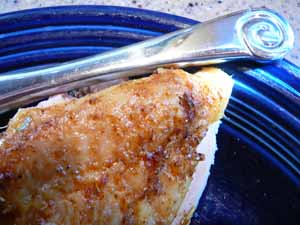 Note: If a well-browned chicken is desired, the paper bag may be removed for the last 30 minutes of roasting. I did this, and also saved a bit of the seasoned oil mixture to brush on for that final half hour.