Lime-ginger scallop sauté
FreshDirect is running a good deal when you buy one of their one-click recipes: $10 off your order of at least $40. The secret is that some of the recipes cost less than $10, and you don't have to buy everything in the recipe. In fact, you can probably just remove everything from your cart and still get the $10 off. Either way, it's a steal, and I ordered ingredients for a recipe called Lime-ginger scallop sauté, from The New Basics Cookbook by Julee Rosso and Sheila Lukins.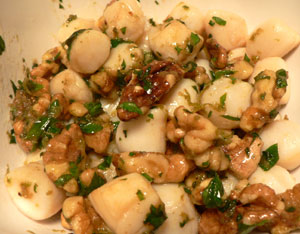 I was not excited to eat this as I was cooking it, and I was pleasantly surprised at the flavor of the finished dish. The lime cut right through the butter, and it went well with the walnuts and scallops. The recipe called for sea scallops, but FD puts bay scallops in the cart. Perhaps they realize, as Nathan pointed out, that the flavor in this recipe is too intense and wouldn't be appropriate for delicate, expensive sea scallops.
For the Scallops (serves 2)
1 tablespoon olive oil
1 tablespoon unsalted butter
1 pound sea scallops, patted dry
3 tablespoons fresh lime juice
4 tablespoons Lime Ginger Butter (recipe follows), chilled
1/3 cup walnut halves, lightly toasted
Chopped fresh parsley, for garnish
For the Lime Ginger Butter
4 tablespoons (1/2 stick) unsalted butter, at room temperature
2 teaspoon grated lime zest
1 teaspoon ground ginger
1/2 teaspoon salt
Freshly ground black pepper, to taste
Heat the oil and butter in a large skillet over high heat. Add the scallops and stir until golden, about 2 minutes. Pour off the fat.
Stir in the lime juice and cook 1 minute. Lower the heat and stir in the Lime Ginger Butter 1 tablespoon at a time. Cook just until a thick sauce forms. Stir in the walnuts, sprinkle with parsley, and serve.
Lime Ginger Butter (About 5 tablespoons) Stir all the ingredients together in a small bowl until smooth. Shape into a cylinder 2.5 inches in diameter, and wrap in foil or plastic wrap. Refrigerate until firm, about 1 hour.
If I were to make this again, and I probably will, I'd use fresh ginger in the lime-ginger butter. I'm not sure why this recipe uses ground, but maybe that's typical of the cookbook.