Lidia's meat sauce
I've always loved a hearty meat sauce on pasta, but the few times I've tried to make it have resulted in overcooked, watery disasters. Mom's was excellent, and I was afraid I could never match it. Last night I learned that the secret to delicious meat sauce is time, time time.
Googling "meat sauce" quickly landed me at Lidia Bastianich's recipe, which I followed almost exactly. It was appealing in its simplicity. Of course, I added various ingredients, such as garlic, fresh thyme, and some diced bacon, but I was true to Lidia's cooking time of two to three hours. I felt slightly discouraged after about an hour, when it wasn't holding together much at all. Finally, as I approached the two-hour mark, it started to look, sound, and feel like a sauce: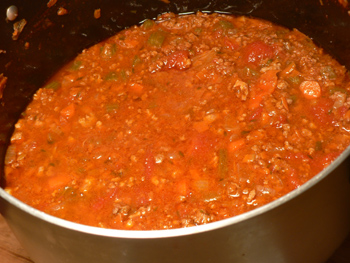 It bubbled and breathed and smelled fantastic, and it will feed us for days. We also managed to get very tipsy from a bottle of Valdemar's spicy, luscious, excellent grand reserve: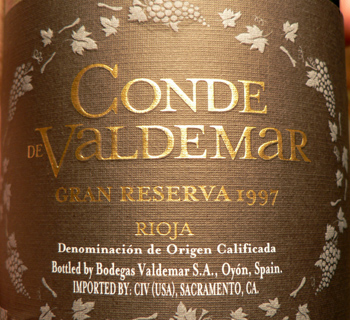 I have been coveting this bottle of wine for months. Valdemar has several price levels of Rioja, this one being the most expensive, about $20 at Warehouse Wines and Spirits on Broadway. Twenty bucks may sound like nothing to wine people, but we drink table wine in this house, and I rarely spend more than $10 on a bottle that isn't being presented as a hostess gift.
Here is the recipe for the meat sauce:
Makes 6 cups, enough to dress about 1 ½ pounds dried pasta
Ingredients
3 tablespoons extra virgin olive oil
1 medium yellow onion, minced (about 1 cup)
1 medium carrot, peeled and finely shredded (about 1/2 cup)
1/2 cup minced celery with leaves
Salt
1 pound ground beef
1 pound ground pork
1/2 cup dry red wine
1 tablespoon tomato paste
3 cups canned Italian plum tomatoes (preferably San Marzano), with their liquid, crushed
3 bay leaves
Freshly ground black pepper
4 cups hot water, or as needed
Heat the olive oil in a 4-quart Dutch oven over medium heat. Stir in the onion, carrot, and celery, season lightly with salt, and cook, stirring, until the onion is translucent, about 4 minutes. Crumble in the ground beef and pork and continue cooking, stirring to break up the meat, until all the liquid the meat has given off is evaporated and the meat is lightly browned, about 10 minutes.
Pour in the wine and cook, scraping the bottom of the pan, until the wine is evaporated, 3 to 4 minutes. Stir in the tomato paste and cook a few minutes. Pour in the tomatoes, toss in the bay leaves and season lightly with salt and pepper.Bring to a boil, then lower the heat so the sauce is at a lively simmer.
Cook, stirring occasionally, until the sauce is dense but juicy and a rich, dark red color. This will take about 2 to 3 hours—the longer you cook it, the better it will become. While the sauce is cooking, add hot water as necessary to keep the meats and vegetables covered.
In other news, I got a free skillet from Cuisinart, as well as a few baking pans, with the $97 credit they gave me for my broken food processor/blender. It's heavy and oven-safe, and it can replace the lightweight, teflon-coated Martha Stewart 12" that I've wanted to get rid of for a year. Can you believe how it dwarfs my stove? Sometimes I hate New York.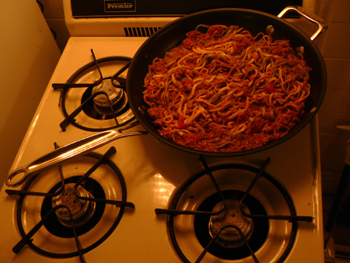 When Cuisinart decides to give you a credit, they send you the most pathetic catalog you've ever seen, full of mostly undesirable, ludicrously overpriced products. It took me three months to decide I had space in my house for any of the crap on offer. I'm happy with my skillet, though.