Leland steals a Le Creuset dutch oven
I've wanted a Le Creuset dutch oven for years, but it always has been and still is out of my price range, even at Amazon. I think of Le Creuset as the cookware that you graduate to once you've worked your way through all the other cheap and expensive crap on the market, the one that you'll have until you die. It's beautiful, functional, and durable. And it's pricey as hell.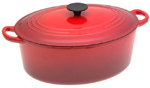 I was aware of the sale at Broadway Panhandler, and I knew that they had marked all Le Creuset down by forty percent. This morning, FreshDirect sent me a 5.5-pound pot roast (I was expecting 3 or 4 pounds), and I decided to take a trip down to 8th Street to see what was left in stock. My heart was quickly captured by the flame red five-quart oval dutch oven. The only one left was the display model, which didn't bother me at all. But even at $147, it took an hour to convince myself that it was worth it. Nathan said he trusted my decisions on cookware, so I pulled the trigger.
I don't understand what happened next, but here is my receipt: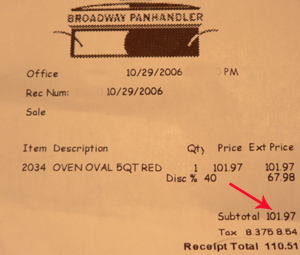 The angel at the counter gave me an unexpected thirty percent off the sale price, bringing the $250 dutch oven down to a cool $100. I don't know if it was a display model discount (which the sales clerk told me wasn't happening), or if he was flirting (though this cashier was decidedly straight). Either way, I kept my bargain-hungry mouth shut and ran home with my gorgeous pot, cradling it like a baby for fear that it would break the bag.
Here she is on her maiden voyage, browning the pot roast that we'll be eating for weeks because we can't find enough people to come eat it with us.