Leland eats meat, catches up
I've had the busiest week of my working life, and I'm way behind on television, email, phone calls, and weblogging. None of this has kept me from cooking, though, and I have a backlog of meaty dinners from the last four days that I wanted to share.
First, the third installment of La Cense grass-fed beef. This time it was beautiful, thick hamburgers, which I topped with fried onions and danish blue: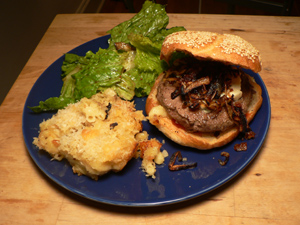 I don't know what my problem was back in May, but it must have been the crème fraîche I added to the beef. These cooked up quickly and easily to an appealing medium rare. Thanks again, La Cense! (That's Ruth Reichl's panko-topped macaroni next to the burger, by the way.)
Next on my list was flank steak, which was much bigger than I bargained for. I served it with broccoli rabe, something else I had never cooked before. I made great use of my Field Guide to Meat and Field Guide to Produce, two books that are worth having around just in case you end up with something you haven't cooked. They tell you how to buy it, where it comes from, how long you can store it, how to cook it, and what its flavor affinities are.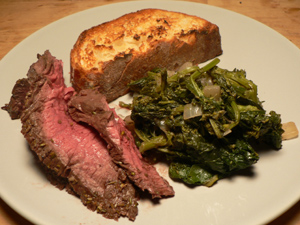 The book suggested I cook flank steak for five minutes per side for a two-pounder. That's totally wrong, in my limited experience. My steak was just over a pound, and I doubled that cooking time, and it still came out quivering. I put my slices back in the pan and found that they tasted better and had a more appealing texture when they reached medium. The broccoli rabe, which I blanched and then sautéed with onions, was delightfully intense, and I look forward to making it again (not that it holds a candle to my beloved swiss chard).
Finally, there is the fabulous, buttery pork tenderloin from FreshDirect. I got home last night and wasn't planning on making something elaborate, but after someone dropped a water balloon from the roof of an eleven-story building that hit me in the face, I decided bacon was in order.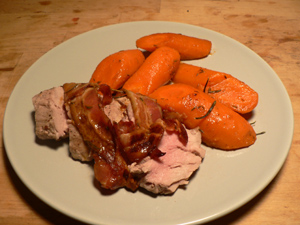 First, I fried the bacon to render its fat with a bunch of fresh rosemary and thyme and some olive oil. Next, I browned the tenderloin on both sides and seasoned it well. I added the carrots to the pan (which had been blanching boiling for about 15 minutes to soften up) along with some chicken broth, and I let it simmer away, covered, for ten minutes or so, until the pork reached 140ºF. While it was resting, I turned up the heat to caramelize the carrots, and then I made a pan sauce by deglazing with sherry and reducing it.
Everything tasted great, and I was really impressed by the texture of the tenderloin (which is just $5.99 a pound from FD!). It was porky and substantial but easy to cut and chew.