Le Souk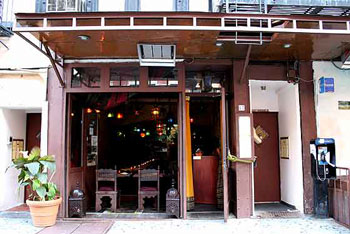 n8 and I got roped into a dinner for 12 last night at Le Souk on Avenue B (Avenue B&T as n8 calls it). Groups so large rarely enjoy themselves when they dine out, and this was no exception. The food is hardly worth commenting on; everything was uniformly bad and obviously (and insufficiently) reheated. We were made to select either side A ($42 per person) or side B ($32) from the menu. The bread was stale, the lamb was tough, and the desserts were wooden.
I'm not familiar with any club that also manages to be a good restaurant. We were carded on the way in and shooed away by the bouncer on the way out. Two members of our party were spilled on by our talentless waitress. (She crashed into the belly dancer with a tray of food after our appetizer course, sending bland hummus-laden cucumber slices and shredded lettuce flying.)
Those of us who ordered mixed drinks were surprised to learn, upon receiving the check, that we were given top-shelf liquor without being asked. Le Souk is the opposite of Falai Panetteria. Here, you feel like you're being ripped off with every bite and every sip. It took fifteen minutes to collect enough cash for our $600 balance, during which time we were glared at by the staff and asked by the waitress if we were "done yet."
I couldn't wait to get home and eat several spoonfuls of peanut butter. This place is my dining nightmare.