Le Bernardin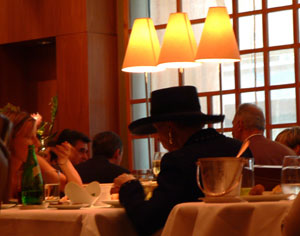 I'm still in a tipsy stupor after taking Nathan for his birthday lunch at Le Bernardin. I took him there because he loves eating everything that comes from the ocean, because I've wanted to eat there for years, and because he doesn't respect chefs who have mini-empires, such as those of Jean-Georges and Mario Batali. He and I both have the utmost respect for a chef who is confident enough to stay in one place and innovate year after year, the way Eric Ripert has done for over a decade.
If you want to see pictures of Le Bernardin's food, I recommend looking at The Amateur Gourmet, or Foodite, which is written by a student at FCI who ate some of the same things I did. It wasn't in me to point our big camera at my plate, although I did sneak a shot of the woman in the big black hat, because she seemed like such a prototypical customer. Anyway, it was Nathan's birthday, not a blogging adventure for me.
I only have one complaint about Le Bernardin, and it's hardly valid: there are too many employees. Seriously, not once did I look up and see fewer than a dozen employees milling around. It's downright lousy with busboys. It doesn't have the hush and the class of Country, at least not during lunch. Thankfully, they weren't invasive or annoying. Even the sommelier was appropriately distant, and he didn't challenge my cheap choice of wine (cheap by Le Bernardin standards, not by mine). It took a while to get the check, but I believe they do that on purpose in order not to rush people.
A three-course lunch is $51. That's half the price of dinner and more than enough to satisfy. People warned me about the small portions, but I don't know what they're expecting. We were both stuffed when we left, and we're no birds. Every table starts with a chunky salmon spread, which I could have eaten with a fork and called lunch. It had just a bit of dill in it, only enough to perfume the fish. For my first course, I had the tuna ("Layers of Thinly Pounded Yellowfin Tuna, Foie Gras and Toasted Baguette, Shaved Chives and Extra Virgin Olive Oil"). I ordered it on the recommendation of a friend who recently had the good fortune of having a business lunch here, and I wasn't disappointed. The raw tuna was as soft as pudding, the baguette impossibly thin and smeared with buttery enlarged liver. Nathan had the octopus ("Warm Spicy Octopus with Black Olive and Preserved Lemon; Aged Sherry Vinegar and Extra Virgin Olive Oil"). Its presentation was so elegant and simple: thin slices of tender octopus arranged like a honeycomb in the middle of the plate.
For a main course, I had the wild salmon ("Barely Cooked Wild Alaskan Salmon; Morels and Spring Vegetables in a Wild Mushroom Pot au Feu"). The last time food made me cry was on the island of Procida off the coast of Naples. I had a terrible fever, and Nathan picked a blood orange from a tree for me. Maybe it was my weak body calling out for vitamins, but that orange was divine and brought tears to my eyes. I teared up again today as they spooned four incredibly fragrant morels on top of my elegant salmon fillets. I had never eaten a morel, but I see now why they are so revered. It's much more than a mushroom, and it has nothing in common with any button or shiitake specimen I've had. Nathan had red snapper, which I have no website description of. It looked dry when they sat it down, but that was only its crispy, perfect crust.
I knew what I would order for dessert ever since I read about it in Foodite's review, and he has a picture of it at the bottom of the page. It was a flourless chocolate cake topped with a sheet of dark chocolate, four little balls of ganache, and a thin disk of salted toast. Surrounding it were tiny puddles of chocolate sauce and olive oil. It was hard to eat, but easy to finish. Salt and chocolate are just meant to be. Nathan had the chocolate cashew cake with a red wine reduction, which you can see the Amateur Gourmet's mother eating at the bottom of his review. It had little flecks of gold in the middle, which he happily consumed. With dessert came a small bowl of warm financiers, flavored with coconut and pistachio.
Restaurant food just doesn't get any better than this in New York. Those trendy food factories on 10th Avenue will come and go, but Le Bernardin is forever.