Lasagna
Certain recipes lend themselves to being altered based on personal preferences or ingedients on hand, and lasagna is one of them. I bought some of those no-boil lasagna sheets a couple of months ago and have been meaning to put them in the oven since then. I finally got sufficient motivation today, and I came across Mario Batali's recipe for lasagna bolognese.
I sort of stuck to Mario's formula, and I'm sure that following it exactly would result in a truly memorable dish. But I didn't start cooking until almost 8 pm, and I didn't have a few of the ingredients. Also, I thought I had a pound of lasagna, but in fact I had just eight ounces. Furthermore, I didn't want to use four cups of milk for dinner. Oh, and I didn't have any ground meat, so this wasn't really bolognese. I did have bacon, though, which I cut into lardons and used in place of the ground pancetta. (Who has ground pancetta?)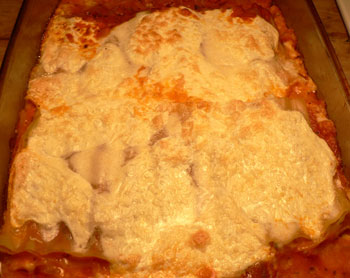 So I improvised my way through it, and apart from looking crazy and not being sufficiently salty, it was delicious enough for me to have three helpings. I had mozzarella in the fridge, so I put slices of that on top for bubbly brown goodness.