Jamie Oliver's sticky saucepan carrots
The countertops aren't sealed yet, but we still have to eat. So I pulled out my enormous cutting board and went to work on that tonight, trying to make a meal out of the pathetic selections available in the refrigerator.
I had carrots, potatoes, and lentils on hand, which seemed to cover all the important bases: protein, vegetable, starch. Luckily, a dear friend gave us a beautiful cookbook as a housewarming present: Jamie Oliver's Cook with Jamie. I've never been much for Jamie, but this book is undeniably appealing. The writing is rather horrifying, but the recipes seem solid and the pictures are modern and gorgeous.
The book is divided into salads, pasta, meat, fish, etc., much like a textbook, which I think is what he intends it to be. The vegetable section has a recipe for "Sticky saucepan carrots," and that is what we ate tonight.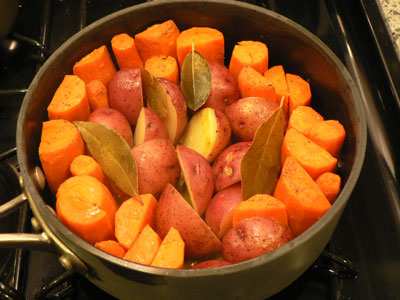 In his version, it's nothing but carrots. I didn't have enough carrots to fill this pan, so I filled in the holes with potatoes, which was fine. The idea is to stand up the vegetables, "like little soliders!", and to cook them in liquid and butter on the stove until the sugar in the carrots caramelizes. When they're finished cooking, you flip them onto a platter so that the sticky side is facing up. The carrots and potatoes were totally delicious alongside some lentils simmered in stock with garlic.
For four servings, cut about 2 pounds of peeled carrots into 2-inch lengths. Stand them up in a pan so that they fit snugly. Stick some bay leaves in between them, season the carrots well, and drop a knob of butter on top. Add liquid to come halfway up the sides of the carrots, bring to a boil on the stove, and then simmer, covered, for 20 minutes. Remove the lid, and cook until the liquid boils down and the carrots get sticky and soft. Flip them over, and serve. You really can't go wrong.