Jamie Oliver's duck pasta
Sorry for the lack of Eat activity this month. Between my recent birthday, Scrabulous, and getting ready for Christmas, I've cooked nothing interesting. Right now we're in survival mode, since the heat and hot water have gone out. Last night it was a few baked potatoes that kept us alive. Tonight I'm going out, because we can't really even do the dishes (I suppose we could heat up water as in the old days, but once you get a dishwasher, there's no turning back!).
A few weeks ago, before December took over our lives, I made a pretty delicious recipe from Jamie Oliver's new book. He calls it gorgeous slow-cooked duck pasta. I call it a huge hassle but with a substantial payoff.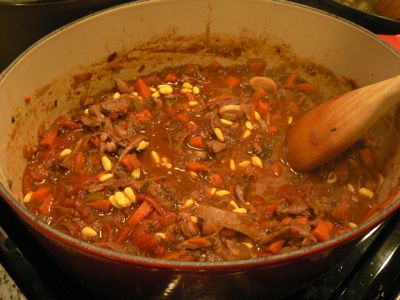 I love sweet and sour dishes such as this one. It's got orange, vinegar, raisins, and bacon, and it works together extremely well. I served it over homemade pasta at a dinner party, and the recipe easily fed four hungry boys, with some left over for the next day's lunch. The downside was that I had to roast a whole duck (the day after Thanksgiving!) and then pick the greasy meat off of its disgusting, fatty bones. I hate working with duck. Just the memory of the smell makes me feel nauseated.
Slow-cooked duck pasta
Preheat the oven 350ºF. Stuff a duck with a quartered orange; rub the outside with olive oil, salt, and pepper; and roast, breast-side down in a roasting pan, for two hours, turning every 30 minutes. Let it cool, and pull off all the meat.
Pour some olive oil into a large pot. Fry 1/4 pound diced pancetta until golden. Add a diced red onion, 2 chopped carrots, 2 diced celery stalks, the chopped leaves from 6 rosemary stalks, 1 cinnamon stick, and 4 sliced garlic cloves. Cook slowly until it all softens up. Add a 28-ounce can of plum tomatoes and 1/2 bottle red wine. Let simmer for about an hour. Shred the duck meat and add it to the sauce. Cook for another half hour, adding water if it becomes dry. Remove the cinnamon stick, and add a handful each pine nuts and golden raisins. Continue to simmer while the pasta cooks.
Cook a pound of pasta (he suggests small tubular pasta, but fresh fettuccine was perfect for me) in plenty of boiling, salted water. (I recently watched a pasta guru give a demonstration. His metric rule was 100 grams pasta = 1 liter = 10 grams sea salt. I don't have the math chops to convert that, unfortunately. Mom? He also said to never salt the water until after it comes to a boil.)
Toss the pasta into the sauce. Stir in a knob of butter (I skipped this), a handful of grated parmesan, the zest and juice of 1 orange, chopped parsley, and a splash of red wine vinegar.