Ivo & Lulu
Everything started so well at Ivo & Lulu. I'd wanted to try this place for a year; Emily Lyons brought it up more than once, and Lockhart Steele gave it a positive mention a few years ago. My meal could have ended well were it not for one small problem.
But first, the good parts. We sat down in their little Moroccan-style room (i.e., low chairs and low tables, which is hell for a tall person but looks pretty). The bottle of wine we brought was opened and served quickly and without fuss, and the menu presented a fair number of cheap, delicious-sounding dishes. We started with pâté and a roasted pear with gorgonzola. The pâté was quite beefy (approaching a dog-food level) but satisfying, and the roasted pear was predictably excellent, covered in blistering blue cheese.
When it was time to order main courses, I asked the waitress which sausage dish she recommended; the rabbit with cream sauce or the boar with blueberry sauce. She was adamant about the rabbit, and that's what I ordered. Nathan and Emily each ordered the confit de canard, and all seemed well.
And then the confusion began. The table next to us was served, and a minute later their dishes were transferred to our table. Nathan realized that he had received the magret, but other than that, everything seemed fine, and he decided to eat it rather than complain. After a few minutes, I remembered that my sausages should have had a cream sauce. They tasted oddly of…blueberries. And wild boar. Nevertheless, we finished our meals. It wasn't until our neighbors made a scene about getting the wrong meals that we realized that our entire orders were switched. The other party wasn't willing to accept our dishes, and it was far too late for them to take back the ones that were served to us.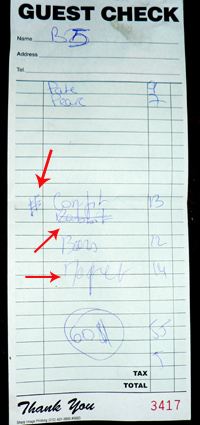 None of this would really matter if it weren't for the fact that, as we were finishing, our waitress approached our table twice and, in a rather angry tone of voice, demanded to know exactly what we had eaten. Is it any surprise that the magret was pricier than the confit, and that we were charged the higher price? The difference was only one dollar, but on what planet is it acceptable to completely screw up an order, not apologize for it, and charge the higher of the two prices? (France!) I was especially upset about my sausages, which weren't particularly good and weren't what I ordered in the first place.
Ivo & Lulu is cute and cheap, and I love that it's BYOB. Then again, my apartment is also BYOB, and at least here I know what I'm getting. I want New York to be full of charming little restaurants such as this one, but I'd never set foot in a place where the customer's feelings aren't even considered. These waitresses broke all the rules, and their tip suffered for it.