Ice cream
There's nothing quite like making something fresh that you've eaten out of a box your entire life. In my twenty-something years, I've probably consumed a football field's worth of ice cream, and I've loved almost every spoonful of it. I'm a sucker for super-premium brands, and a diehard fan of Whole Foods' $3.99 half-gallons. Before my cholesterol woes began, I slurped up that sweet stuff every night.
Two weeks ago, I got my mitts on the Kitchen-Aid ice cream maker attachment. The bowl lives in the freezer and has come out frequently, most recently for chocolate and vanilla ice cream.
The wonderful thing about homemade ice cream is that, if you use the best ingredients, it comes out so rich that you only eat about a half cup before you feel sated and a little guilty. My first go, with the chocolate, involved the best Vermont heavy cream and Valrhona chocolate. It was so fatty that it started to separate a bit while chilling. The vanilla version involved the same cream, pristine egg yolks, and scraped vanilla beans.
The chocolate recipe came, randomly enough, from Fergus Henderson's book, The Whole Beast.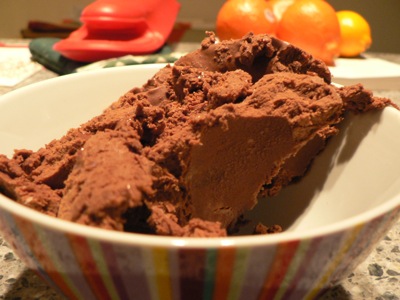 2/3 cup milk
1.5 cups 40% cream
2 oz 70% chocolate, roughly chopped
5 egg yolks
5/8 cup superfine (caster) sugar
2 oz 100% chocolate
Bring the milk and cream to boil in a pan. Reduce to a simmer, and add the 70% chocolate. Add the yolks to the sugar in a bowl and beat well. Add some of the hot cream to temper, and add this back to the cream on the stove. Cook for 8 to 10 minutes while stirring constantly. Add the 100% chocolate and stir a bit until it melts. Pass it all through a fine sieve, and chill in the refrigerator before churning in the ice cream maker.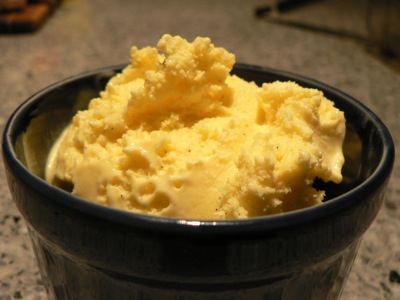 The recipe for French vanilla ice cream came right from Simply Recipes. It's extremely rich and delicious. Thanks, Elise!