Hot cross buns
Has anyone ever made the hot cross buns from The Bread Bible, by Beth Hensberger? I made these for Easter dinner today, and although I haven't baked them every year and don't have a recipe I habitually turn to, as an advocate of establishing and maintaining food traditions, I decided I would begin the ritual of serving these rolls as part of our holiday meal.
I have at least two of Beth Hensberger's books but haven't cooked much from them. My first doubt came when I was instructed to sprinkle the yeast on 3/4 cup of warm water, along with the sugar, which was 1/3 cup. That's a lot of sugar to 'sprinkle'. I was then told to put the yeast mixture aside, and mix several other ingredients together, including sugar, but there was no more sugar listed in the recipe. My conclusion is that the recipe omitted an initial 1 tablespoon of sugar to sprinkle with yeast. The recipe also calls for only 3-4 cups of flour to 1 3/4 cups liquid, 3 eggs, and 1 stick of melted butter. That is just way too little flour for that amount of wet ingredients. I added about 1 extra cup while kneading with my dough hook but didn't want to add too much, figuring these buns were supposed to be light. Plus, who am I to question the Bible, especially on Easter? And I knew that sometimes sticky doughs are less sticky after rising, so I just sort of slopped the whole thing in an oiled bowl and let it rise.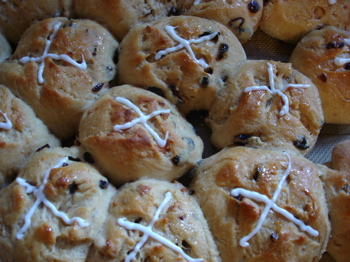 And it was less sticky later. I was able to cut it into 18 pieces and shape them into rolls. They were too soft to really cut the crosses into, though, even with my nice, new, sharp lamé, but I did the best I could. The recipe called for mixing a sugar 'glaze', which was really nothing more than a simple syrup, so I used vanilla syrup instead, which I had on my pantry shelf. Hazelnut or lemon syrup might also have been good; this glaze was brushed on the buns as soon as they came out of the oven. The crosses are piped on after the rolls are cool, with a simple confectioner's sugar frosting.