Hot chocolate in Sitges (updated)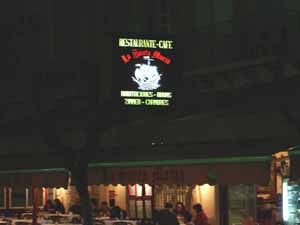 We were almost at the end of our vacation in Spain and still hadn't eaten paella. Yes, we'd come close with that less than satisfactory fideua in Barcelonetta, but we still wanted to experience the waiter bringing the big pan of steaming hot rice, meats, and seafood and serving it up at the table. Fortunately we were in the right place for it; Sitges teems with seafood restaurants, even during their off-season. On our last afternoon there, while I was having a siesta in the afternoon, (how quickly I got into that habit!), Poppy walked around and spotted a place that was serving great-looking paella – the Santa Maria. And before you ask, yes, there is also a Niña and a Pinta in Sitges, although not all on the same street.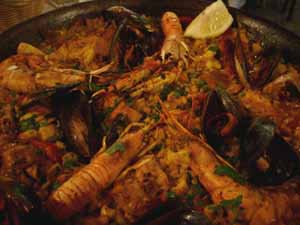 I started my meal with garlic and ham soup and Bill had steamed artichokes. As in most of the restaurants here there was a small dish of olives on the table when we sat down. We are going to be eating a lot more olives when we get home as I have a new appreciation for them, especially these little tiny green ones I've been eating every night over here in Spain. Then the waiter brought the paella and served it with a flourish, making sure we each got a lemon and some of each kind of shellfish, meat, and chicken. I will admit that I don't really like the squid or octopus or whatever it is they put in paella; it's too rubbery and doesn't seem to have much flavor. Everything else was savory and delicious, though.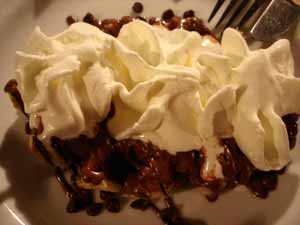 When we finished the paella we decided to go elsewhere for coffee and dessert and returned to the same place where we had eaten breakfast, the Mont Roig Café. We had noticed they had a chocolate-covered waffle displayed in their pastry window and bookmarked it. Is it possible to overdose on chocolate? We each ordered the hot chocolate and one of their waffles, which came topped with a sprinkling of chocolate chips, fudge sauce, and freshly whipped cream. The hot chocolate was thick enough to stand a spoon in, and the waffles were superb, warm and crunchy with sugar. For the first time in my memory Poppy was actually unable to finish food; he left half his waffle uneaten on his plate! Chocolate addict that I am I had no such problem and ate mine all up and drank my hot chocolate as well, or spooned it up I should say. Here is a picture of the hot chocolate at Café Mont Roig in Sitges, which Poppy describes as "like drinking a chocolate candy bar."