Home Restaurant
Ever since Emily Lyons told me about the chocolate pudding at Home on Cornelia street, I've wanted to try it. I finally had the occasion tonight with an old friend from college I hadn't seen since freshman year, when she was whisked away to a glamorous editorial job in New York and left us all for dead in Pittsburgh.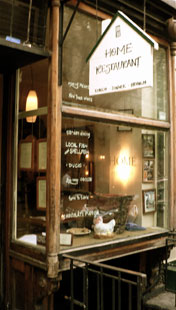 I had no trouble getting a reservation in the garden on Monday night, and what a lovely garden it is. If I went back, though, I might stay inside, which is rustic and adorable. We drank a bottle of the house "Red" (quotation marks are theirs, indicating that this is the wine's name), which was summery and not too alcoholic ($30). I ate fried oysters over watercress ($12) for an appetizer. It was my first cooked oyster, and it tasted oddly like sweetbreads, in its savory mushiness. It could have used more lemon and perhaps a few salty capers, but it was flavorful. For dinner, we each had the grilled skirt steak with oniony mashed potatoes and warm tomato salad ($22). I cleared my plate. Grilled meat and red wine in a garden setting on a breezy summer night is heaven.
For dessert, we shared the famous chocolate pudding. My only bone to pick with Home is over this pudding. The chocolate flavor was intense and good, but the whipped cream topping made up more than half of the $7 dessert, which contained only about five tablespoons of pudding. All of the desserts were the same price, and I just wish I had ordered a hearty piece of pie instead, so that I wouldn't have to end the night on such a note.
Regardless of that unfortunate portion size, I would gladly return to the unpretentious Home, where a decadent meal for two is well within reach.