Healthy dinner
Now that I am afflicted with high cholesterol, I have to start trying to not just fry my dinners night after night and then douse them in cream and cheese, which is apparently what I've been doing, at least according to my LDL levels.
So I picked up a cookbook today and turned to a recipe for a vegetable terrine with gruyère cheese. Halfway through the recipe, I got irritated with the idiotic procedure and realized it would never work, so I decided to throw it away and strike out on my own.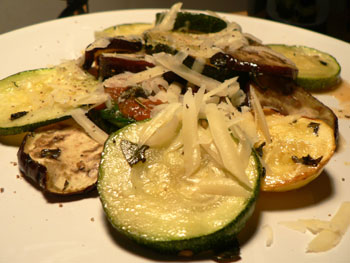 What you see above is roasted eggplant, zucchini, and yellow squash on a bed of spinach, tomato, garlic, and basil. I guess this has two milligrams of cholesterol or something, and that's a good thing, right? Either way, it tasted good, although I have decided that I don't like the texture of eggplant. If anyone has a method that masks the texture, please share it.
I can't eat like this every night, because I love crispy, greasy meat and dough too much to live without them for more than a day at a time, but I can try lighter meals like this once or twice a week.