Hash browns and steak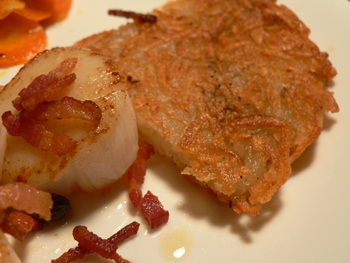 Of the ten ways I've learned to make potatoes in class, this is my second favorite. My absolute favorite, for looks and taste, but not necessarily for preparation, is pommes Anna, a cake of thinly sliced potatoes bathed in clarified butter, fried until crispy, and then roasted. I tried it once at home and it fell apart. When I get it right, I'll make a post. You can see a small picture of a nice one on this German site.
Pommes darphin are similar, but they are much easier and slightly less exciting. Think of a McDonald's hash brown (an old favorite), but ten times as good. You'll need two russet/Idaho/starchy potatoes, oil and butter, an eight-inch pan (nonstick is helpful but not necessary), and a food processor, or something else that will julienne or shred quickly.
Peel the potatoes, julienne them, and squeeze them dry in paper towels. Do not rinse them, for it is the starch that will hold them together. Do, however, season them generously. Get your pan nice and hot, and add oil to coat the bottom generously. Let that get very hot, and then pile the potatoes in the hot oil, pressing down with a turner to make a dense cake. Let it sear. In fact, step away from the pan and do something else. After a few minutes, add a bit of butter here and there around the potatoes (about a tablespoon). Shake the pan to see if the potatoes move together. If they do, you can peek underneath and see if they have browned. Once they have, flip the cake carefully. You can finish cooking it this way, on the stovetop, or you can pop it in the oven while you finish the rest of the meal. It should be very crispy on the outside and creamy on the inside. Overcooking them is kind of impossible, so really cook them well. Drain on paper towels and serve in wedges. I think it goes nicely with any protein. You see it above with scallops and bacon, with some simmered carrots in the background.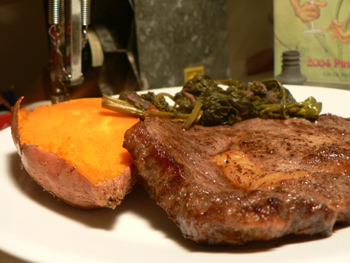 Another useful lesson from class was on steak, which the French like to sauté rather than grill. Grills do leave a strong flavor, but I think most people love the flavor of a grill. I know I do. But a well-browned, medium-rare steak from a pan has its own charms, and there's nothing to it. As always with meat, just get the pan as hot as hell. Add oil and heat it until it practically ignites (in class, oil was igniting at almost every station), and sear the steak on both sides, adding butter while it's in the pan. If the heat is high enough, the meat will brown beautifully in two seconds and cook in about three minutes. My home stove doesn't have nearly the power of my school stove, and I couldn't get the same color on that fatty ribeye. But it tasted great, and it is much faster than broiling, which I've been doing ever since Mark Bittman wrote his broiler piece earlier this year. Overcooking is easy with this method, so look for a thicker steak than the one pictured here.