Hamburgers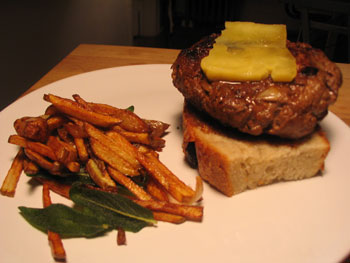 What's the best recipe and method for making delicious hamburgers at home, without a grill?
I made these last week, my first time making burgers. They came out well, but they lacked…something. They just tasted like ground beef cooked in a skillet. I grated a bunch of onion into the beef, and I added a spoonful of crème fraîche as well, since James Beard wrote how good cream is in a burger. And the sage fries were delicious. But should I sear my hamburgers and then finish them in oven? Should I broil them? What is the best kind of beef to use? 85/15, as for a meatloaf?
Any advice would be appreciated.