Grease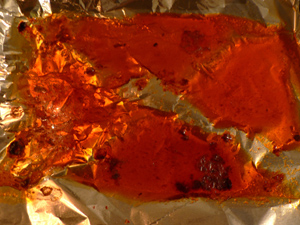 This is why broiler pans and roasting pans with racks are so essential. I made Mom's paprika chicken tonight for a few guests, and since my roasting pan, for which I have no rack but which I use for meat all the time, was in use, I pulled out the broiler pan. Even after close to an hour in the oven and then five minutes under the broiler, the meat (legs and thighs, of course) was moist, smoky, and had a dark and crispy skin. The unappealing fat had almost all dripped down below, and everyone felt good about eating a second piece, and even picking up the bones with their fingers to extract the tender bits.
Tonight was full of repeated recipes, so I have nothing new to offer. We ate the paprika chicken, blistered potatoes, and a bunch of Swiss chard cooked into submission in red wine and chicken stock. I cooked the chard stems with the potatoes–they crisped up like chips and were a perfect foil to the soft tubers. For dessert, I threw together the absurdly easy Amazon cake and served it with freshly whipped cream (Mom: I used your technique of putting the bowl and beaters in the freezer first!).
One guest, a lovely French girl called Flo, was so taken with the smoked paprika that I hid the tin in her purse before she left. I'd already used more than half of it in just a week, and I was afraid of overdosing, and of her forgetting how much she liked it. Smoked Spanish paprika is about to blow up.