Gratin dauphinois
I'm entering what might be a Richard Olney phase in the kitchen right now, ever since I got my mitts on his Simple French Food, a highly addictive, splendidly entertaining cookbook and manifesto. If you can get past headnotes that contain statements such as this one, "Dipped in batter and deep fried, they are exquisite," which refers to lambs' balls, then this is a book worth owning. I've never read anything that made me want to get up from the couch and get my hands dirty the way this book does. The recipes and lifestyle it describes are so simple, so rustic, so appealing to my computer-abused, city-weary eyes.
Each recipe is entertaining and vivid, like a short story. In the headnote for scalloped potatoes, Olney discusses the aura of mystery the dish has acquired from so many variations. "Nearly every reputed restaurant has its celebrated gratin dauphinois and each is willing to divulge its recipe, usually incomprehensible and conceived in the interest of mystification." Richard's mission is to remove the mystery from these dishes, for the benefit of regular American cooks such as myself. He tells you what's important (treating good ingredients with respect) and what isn't (just about everything else).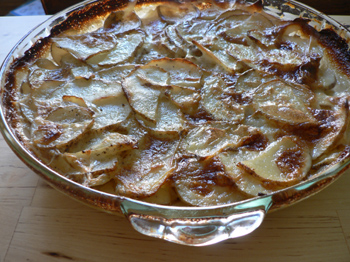 For this gratin, I sliced three potatoes thinly in the food processor. I simmered them in milk just to cover for about ten minutes (adding a bit of salt) before pouring them into a glass pie plate that I had rubbed aggressively with a split garlic clove (you're supposed to butter the dish, but I forgot this step). I poured about 1/4 cup of heavy cream on top, sprinkled a few shavings of cold butter, and put them into the 375ºF oven for about an hour, until well browned and very soft under the crust.
It's a delicious, simple winter lunch, and fit for company with a green salad and a bit of wine.