Goat cheese soufflé
Not satisfied with the rises of my earlier soufflé efforts, and still jealous of mom's, I decided to give it another try last night.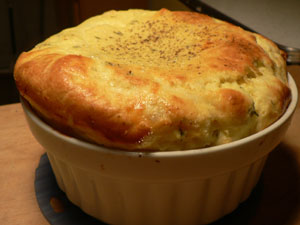 I used a Jacques Pépin recipe from The Apprentice, but instead of gruyère and chives I used a strong goat cheese from Di Palo and fresh thyme.
I'd say it rose pretty well, although looking at mom's picture I guess I could have left it in the oven longer. When I see that it has risen, though, and I can smell it, it's hard not to just eat it. It tasted just as good as it looks.