Gifts for cooks
I got two great early birthday presents last night (three, actually, if you include the long and luxurious dinner that we enjoyed at Brooklyn's Restaurant Saul), and I thought I'd share them in case any readers are looking for a good gift for their kitchen-focused friends and lovers.
Here's an awesome thing called Hold, which you can get at the MoMA Store, among other places. It's basically a big piece of heavy metal meant to hold open a cookbook on the counter, like so: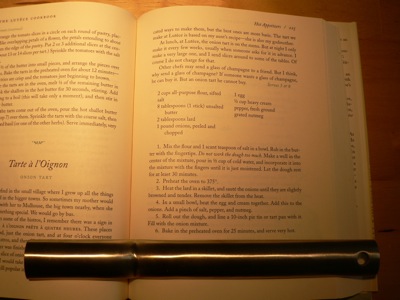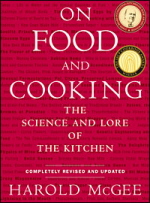 I've been using my box of kosher salt for this purpose, so this is a big step up. Another gift, which I actually had already, but that doesn't make it any less of a great gift (thanks Jeannie!), is Harold McGee's famous book, On Food and Cooking. It's a good read even if you don't cook. McGee's book is full of scientific and historical information about every food item imaginable. If I'm embarking on a new cooking method, I find it useful to read up on it in McGee in order to avoid any common pitfalls.