Garlic soup with mussels
The Wednesday Chef has done it again, providing her many, faithful readers with the recipe for Daniel Young's garlic soup with mussels, a recipe that produced the tastiest mussels I've ever eaten.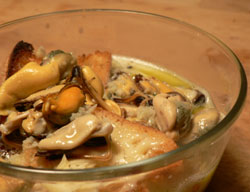 I've grown to adore mussels, but I'm tiring of regular old moules marinières, although I love how easy and foolproof it is. Daniel Young's recipe takes a solid forty-five minutes to make, which is long for mussels, but after a weekend in a rustic cabin in the Catskills, it was just what our aching bodies were calling out for. It's the kind of thing I wish I could eat at the top of a mountain I've just climbed. The recipe is for four—we ate it all ourselves. I can't wait to double it for company.
Today not being a work day, I resorted to getting bread from Whole Foods. I think their baguettes are hilariously bad, so I opted for a 99¢ ciabatta, which was less than inspiring but tolerable at the bottom of soup. My only other alteration to this fabulous recipe was the addition of salt; I sprinkled on some sea salt on the table, giving each bite a fleck of intense saltiness. Don't skip out on the red wine vinegar—these garlicky mussels benefit from the subtle tang.