Garlic & eggplant rice
My first use of the five-pound tub of garlic was a hit: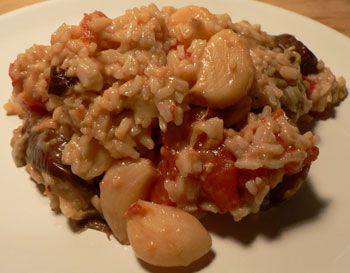 I roasted four eggplant and about fifty garlic cloves with a can of coconut milk, soy sauce, and red pepper flakes for a little over an hour at 375ºF. I mixed in some chopped canned tomatoes and served it with rice. The garlic was a bit overwhelming, even for me, which does not bode well for the week. But the soy offset it enough to make it more than tolerable, and it will be great leftovers for Nathan for the next three days.