Frog Hollow Farm peaches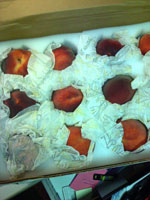 For all the talk I had heard about Frog Hollow Farm peaches, I firmly expected to be somewhat disappointed. My friend Kim waited over a month for her birthday shipment of 24 peaches, and it finally arrived today. I may have been more excited than her. She brought the boxes into my office this afternoon, and we were as giddy as Ralphie and his little brother on Christmas morning in A Christmas Story. An opened box revealed 12 perfectly round peaches, packaged more carefully than an Apple computer in foam and tissue paper. We examined each peach, looking for one ripe enough to eat. After going through both boxes, we found one that seemed soft enough to be risk-free.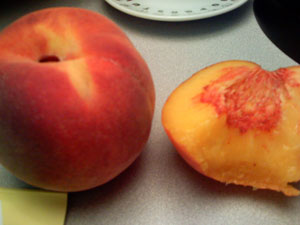 I have a reputation in my family as a peach-eater. I once famously ate a dozen peaches (in one sitting) that were meant to be shared. That was back in the day when peaches were reliably good, especially those from my grandfather's orchard. When peaches are good, there is no stopping me. I'd take a perfect peach over any other food. I don't know what has happened since those days, but I swear it's been five years since I've had a perfect, sweet peach. Frog Hollow peaches are absurdly expensive even before shipping charges, but they are worth every penny to a peach fanatic such as myself. When we're done with Kim's, I'll covertly order more. Hours later, I can't get the taste out of my head.
The perfection of a Frog Hollow peach lies in its texture. It's not soft and mushy, and it doesn't gush juice, the way you think you want it to. It's juicy for sure, but in a civilized, controllable way. The flesh is soft, but manageable, at least at this early stage of ripeness. The color is deep orange, as it should be, and the flavor is sweeter than sugar, and the essence of peachiness.