Fish for Lent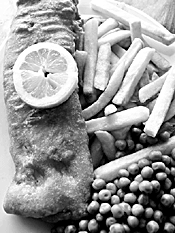 You may have to hunt for them in New York, but I promise you that starting on Ash Wednesday and continuing on Friday and every Friday until Easter you can find terrific fish fries, in Catholic churches, parochial school gymnasiums, fire halls, and lodges such as Moose, Elk, and the Masons. Here in Pittsburgh our local Catholic newspaper, Pittsburgh Catholic, lists them on their website.
Last year Poppy and I embarked on a mission to try a different fish fry every Friday during the Lenten season. We were amazed at how delicious some of them were. Naturally we had to kiss a few frogs—over-breaded, big, greasy hunks of tough cod served with flaccid, under-cooked frozen French fries. But more often than we expected we were served fresh, lightly breaded and fried, delicately flavored filets, some with what looked and tasted like hand cut French fries, often with home-made haluski or pierogies, and usually an assortment of home-made desserts, all for $6 or $7.
I recommend that you call your local Catholic churches and find out where the fish fries are in your neighborhood; this is the season to get really fresh fish.