First kitchen update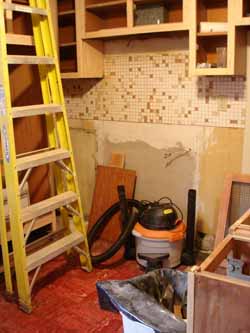 I don't know how often I'll provide updates because I don't want to bore anyone, but we're at the stage where the kitchen looks like it will never be finished. The contractors uncovered two floors beneath the one we were walking on; look at the retro red linoleum in the photo! A big setback is that the over-the-range microwave simply won't fit into the space that I had planned for it. I guess that's why you hire kitchen designers to make these plans for you. I had hoped to get some extra storage space for myself that way, but I guess I'll have to put a range hood there and put a microwave somewhere else in the kitchen. Consumer Reports says the over-the-range microwaves don't work all that well anyway (as ventilation).
Some folks have mentioned that at least in summer I can be cooking outside, and using my coffee maker, etc., but the reality is that just about every available surface in my dining room is covered with the dishes, gadgets, food, and cooking equipment that I removed from the kitchen. I don't want to have food detritus and garbage upstairs in the bathrooms or bedrooms and don't really have any available surfaces up there for any kind of food preparation anyway, and obviously there's no water in the kitchen. So, no, I'm not doing any cooking at home at all, not even grilling or using the coffee maker or microwave.
One good thing is that Calvin is away at school through the first week of August and we have been on the road most weekends, due to my husband's performing schedule, so we would be eating out a lot anyway, and it's just the two of us at home. I guess I had pictured that we would be grilling and picnicking, but when I was imagining that I wasn't taking into account the fact that my whole downstairs would be under siege and that I wouldn't be able to find any of my supplies or equipment. I suppose some women might have been a little better organized about how they emptied their kitchens than I was, and had a floor plan (the dishes here, the pots and pans there, etc.) but it felt like 100º when I was working and it was all I could do to stagger back and forth with armloads of goods, dropping them wherever I saw a clear patch of floor, table, or rug.