First impressions of Whole Foods Bowery
The new Whole Foods on Houston Street has a french fry station, a gelato bar, and a store selling horrible yoga clothing. It's overwhelmingly large, and on a Friday after work, not even a tenth as crowded as the Union Square store at any time of day. I don't expect this location will ever get too crowded, because how much foot traffic is there in that area? Nothing compared to Union Square, as far as I can tell.
The fromagerie is ridiculous. People are very nice inside, and it's a beautiful room, but it's crazy expensive. Prices approached $20 for little nuggets of goat cheese. As if! If I'm going to spend that kind of cheddar—and occasionally I will—it will at least be at Murray's. People will love the branding of the cheese at Whole Foods, though, and will happily spend freely on cheeses "aged by Hervé Mons," as if they know or care who he is (Murray's also carries Hervé Mons cheeses, and they actually know the guy).
As the weather warms up, I may venture east, to this location, more often than I'll go to horrible Union Square. If for no other reason, I'll go out of my way for their beautiful selection of Fra' Mani cured meats.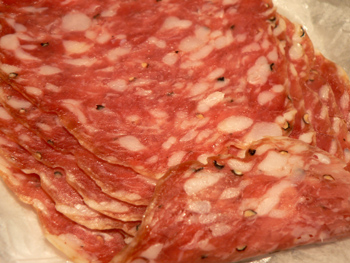 Fra' Mani's website lists several stores in New York selling their products, which is good news to me, since I've been wanting to try it ever since reading and enjoying Paul Bertolli's books. This Tuscan salami is dry, spicy, sweet, and dangerously edible. No strings of fat getting stuck in your teeth (only in your arteries!).
April 2 update
After spending two hours in this store with my family drinking coffee, eating french fries and gelato, and accepting every free sample we came across, I confess that I am completely sold on the concept. It is so easy and fun to walk around ingesting, and it's spacious enough that you'll never feel squeezed out, as you do at Union Square.
The fries, incidentally, are the best I've had in the city. Crispy, salty, and perfect. The Laboratorio gelato is expensive at $3.25 for a small cup, but it's not a purchase to be regretted.
Whole Foods Bowery is the apex of consumerism, and a marvel of careful, thorough branding. We four cynics fell for it hard yesterday. It's not about the groceries here—it's about something completely new. It's like a mall that's mostly a food court, but the food is good.