Falai Panetteria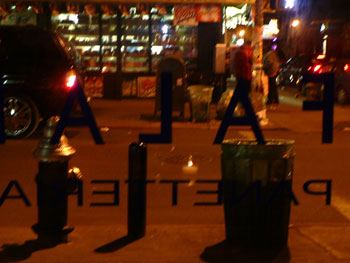 I have a new favorite restaurant, and it is Falai Panetteria on the Lower East Side. I have always sought out restaurants without liquor licenses, to which I may bring my own bottle of wine. This cuts the price of dinner in half. Indeed, we had a relatively decadent meal tonight for $25, plus the $10 I spent on an outstanding wine from the Pays du Gard. BYOB joints are also, by nature, very casual and friendly.
Falai is Iacoppo Falai's fancier, much more expensive restaurant, also on Clinton Street, across the street and a few doors up. It looked nice inside, but no nicer than the bakery, and I am not at all tempted to splurge. On the contrary, all I want to do is return to the panetteria for more of those perfect veal meatballs, of which I have no picture, because they looked like meatballs.
I did take a picture of my starter, though, a gorgonzola foam with celery and glazed walnuts ($5).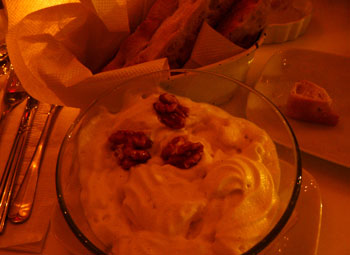 I don't know why I allow myself to be tempted by these démodé foams, but I do. I sincerely enjoyed the first three bites of this, all of which involved a whole walnut, but after that I wasn't too sad to see it quickly melt as I halfheartedly ate it. It's like gazpacho for me: just not a good fit after the first few tastes. Nathan had the leeks with crème fraîche ($4), which I preferred to mine despite its outrageous saltiness, which must have been an accident.
Nathan had a dish of cod with roasted tomatoes next ($5), while I enjoyed my meatballs ($7), the most perfect meatballs I've had, and the first made of veal. You can order this dish in a small or large size, and I had the small, which contained about six balls sitting on braised cabbage mixed with raisins. They were lightly browned on the outside and scandalously medium-rare in the center. I only moan over food occasionally, and the last time was during dessert at Country. I moaned tonight.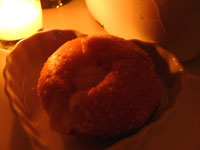 The dessert list is a bit overwhelming, because this is a pastry shop by day, and they have croissants, et cetera. I know it's usually for breakfast, and our charming waiter reminded us of this, but we shared a bomboloni for dessert ($2.50), which was hardly sweet (a good thing) and totally satisfying.
This is an adorable restaurant, and it's worth a detour to the Lower East Side, for the meatballs if nothing else. The service was a non-issue, and I felt comfortable leaving slightly more than 20%. The lighting is romantic, the flatware is clean and solid, and the pitchers of water are full of lemon slices. The mood is that of a place where everyone is getting what they want, without any hassle or New York shakedown.
Keep in mind that there are only about seven tables, and that they were all full when we left at 9 pm.