Falai Panetteria, part two
I had what might be my last dinner at Falai Panetteria last night; they're getting a beer and wine license in three weeks! So sad, but I wish them well. The gorgeous waitress said it would still be reasonable, but I'm not trekking to Clinton Street for cicchetti, no matter how reasonable, if I can't bring my own wine.
Last night I ordered from the specials. First I had the split peas with onion, pancetta, and melted fontina ($6):
If you can tolerate split peas, and I can, this was delicious. What isn't delicious with melted fontina on it, though? Next I had orrechiette with pesto, for $12. I wish they had mom's recipe in there, because it was bland and totally lame. I can't believe they were charging so much for something so simple.
Sabena had the polenta bianca with wild boar ragu, which was excellent. And Emily had the whole wheat lasagna, which I think was the best dish anyone ordered all night: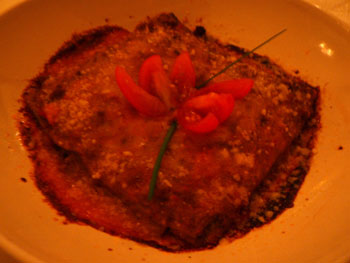 If anyone reading this knows other BYOB places in New York (other than Tartine), please leave them in the comments. These ladies and I would love to know about them.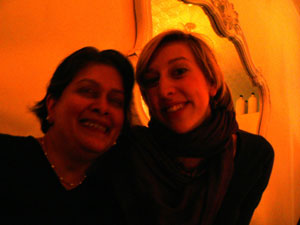 Incidentally, mom and I have hit the big time in Pittsburgh.