Eggs and potatoes
I went for drinks with Brendan and Sabena tonight at ñ after work, which is where we usually go since it's right across the street. They don't have any drink specials, but we always order a bottle of the cheapest wine, Conde de Valdemar, a tasty Rioja. $22 between the three of us works out just fine, even with a plate of chorizo and perhaps some salted almonds!
When I go out for drinks and there are no groceries in the house, I'm always in a pickle when I get home. I've learned, however, that when you have eggs, you have dinner.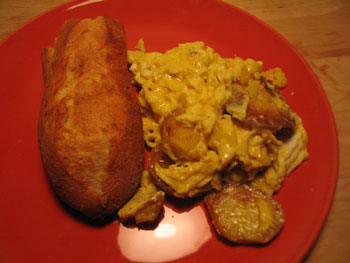 I was reading in some Spanish cookbook today about putting fried potatoes in beaten, raw eggs and letting them sit for a while. So I did just that, then I made an omelette to which I added a diced hunk of Keen's cheddar. (If you find yourself face to face with Keen's, it's worth the splurge if you're into sharp, musky cheddar). I honestly don't think that leaving the potatoes in the eggs made any difference, but I was stalling a bit anyway.
Served with a hunk of yesterday's baguette, this made a delicious meal. I love having eggs for dinner, especially when there's good cheese around and crusty bread.