Easter dinner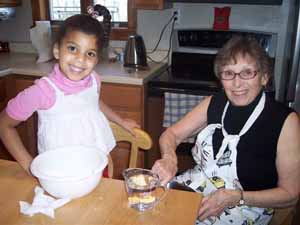 I've been pretty intimidated by the Easter dinners I've been reading about in the world of food blogs, like this one on Ceres & Bacchus , a truly lovely collection of sophisticated dishes and twists on the classics. I wasn't going to post on our meal at all, but then thought, well, I have a lot to be grateful for, like the fact that I was lucky enough to have both my parents and three of my four children at the table with me, as well as my dear husband of twenty years and two new friends, so there were nine of us. I cooked enough for an army and couldn't have done it without Mom. We put the scalloped potatoes together as a team; I peeled and sliced the spuds and assembled all the ingredients and she layered everything in the casserole. Mom made her special pie crust for the winter cherry pie (more on that later) and I mixed the filling and put it together, and she brought her home made applesauce, and rolls she got from the Mennonites. To the left is a photo of Mom passing her secrets on to the next generation, my niece Thayer.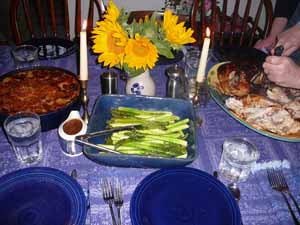 Here's a picture of the table, with my husband carving the roast chickens (I thought we needed two!) Don't the scalloped potatoes look delicious? They had lots of brown crust, both on top and all around the sides and bottom, the very best part. I guess we didn't really need gravy, since there wasn't any rice or mashed potatoes to put it on, just the chicken itself, and it was quite moist, but I made some anyway and it tasted great because of the smoked paprika/garlic paste I rubbed all over the chicken. It may be hard to tell from the photo, but we had about four pounds of asparagus, enough for everyone to have seconds if they wanted. I got the fat kind and peeled them, then spread them on a sheet pan, sprayed them with an olive oil spray and roasted them until just tender and they were perfect.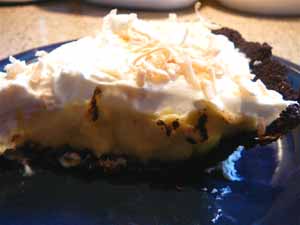 And for the desserts, I made three: Toasted Coconut Cream Pie in Chocolate Crumb Crust, Winter Cherry Pie, and Nigella Lawson's Dense Chocolate Cake. For now I'm only giving the recipe for the cherry pie, partly because I tweaked the coconut pie recipe so much that I'm not sure I could reproduce it, and partly because it's so long that I don't feel like typing it. The cherry pie came from a Pittsburgh Post-Gazette recipe that I clipped awhile back, intrigued because it purported to offset the sweetness of frozen sweet cherries with frozen tart blackberries and I thought it was worth trying. If any of my readers know of a source for frozen tart pie cherries I would be happy to hear of it, because as far as I know, except for the one or two weeks a year that pie cherries are in season, those of us who love cherry pie are stuck with canned tart cherries unless we buy huge quantities of tart cherries to pit and freeze ourselves.
Winter Cherry-Blackberry Pie
PG tested
Make a double crust for this one. When the pie has cooled, give it a good dusting with confectioner's sugar.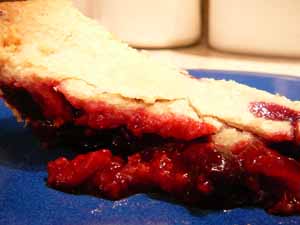 Note- Instead of the nutmeg and ginger I used 1 teaspoon vanilla extract.
Pastry for a 9-inch pie with double crust
1-pound bag individually frozen pitted sweet cherries (not packed in syrup), partially thawed
1-pound bag individually frozen blackberries (not packed in syrup), partially thawed
1/2 cup plus 2 tablespoons sugar
1 tablespoon fresh lemon juice
Grated zest of 1 lemon
3 tablespoons cornstarch
1/4 teaspoon ground nutmeg
1/4 teaspoon ground ginger
Line the pie plate with pastry. Preheat the oven to 425 degrees. Combine remaining ingredients. Transfer filling to the pie shell. Add the top crust, seal and crimp the edge. Place the pie on a drip pan.
Bake the pie for 30 minutes. Reduce the oven temperature to 375 degrees and continue to bake until the top is golden brown and the pie filling has bubbled for 10 or 15 minutes, about 20 to 30 minutes longer. Makes 6 servings.
Pie by Ken Haedrich
My opinion of this pie is that it tasted pretty good; I mean it was pie and I wouldn't kick it out of bed, but it was no substitute for cherry pie by any means. If I want cherry pie out of season, which is most of the year, I will stick to canned tart cherries, like I have posted about on here before. My son Calvin, who loves cherry pie as much as I do, agrees with me. The coconut pie knocked everyone's socks off. The short version of how I made it is to substitute coconut milk for regular milk in the custard, in a custard pie recipe, then fold in toasted coconut, and use a crust made from chocolate wafer crumbs, and top the whole thing with lightly sweetened whipped cream sprinkled with additional toasted coconut. Even people who think they don't like coconut love this pie.