E. Dehillerin and square tarts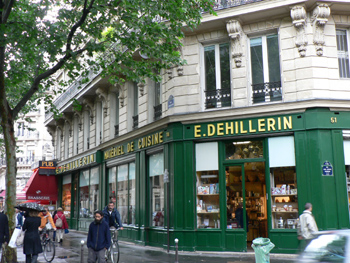 When people ask about kitchen supply shopping in Paris, I tell them to go to E. Dehillerin behind Les Halles. Mom and I went there years ago when I was living in Tours, and although I was too young to really appreciate it, I could tell it was different. It's crowded and old inside. It's the opposite of, say, Crate & Barrel. But it's a cook's paradise, especially if you take tart-making seriously.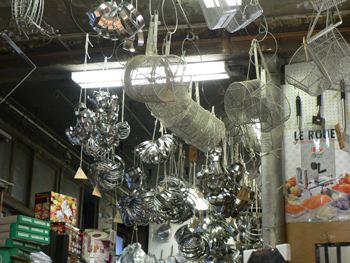 I could have filled my suitcase with various goods, but I settled on a rolling pin (12€) and a square tart ring (9€), which I had never seen before. Dehillerin has tart rings and pans in hundreds of sizes and shapes. I felt giddy. Later in the day, I found my dream book: Quiches, cakes et tartes salées, and I'm gearing up for a summer of salty, square tarts.
Last night was my first attempt: a blue cheese–pine nut quiche: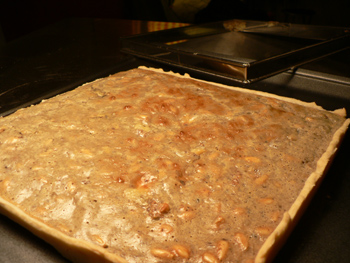 The filling, which I won't bother to convert because it wasn't that fabulous, contained bleu d'Auvergne, fromage blanc, nuts, and three eggs. The recipe called for walnuts, but I only had a few in the freezer, so I used pine nuts instead. The shape of the tart was the most exciting part of dinner. Cutting squares from a square is so much easier than cutting wedges from a circle.
My only problem with the cooking was the baking sheet, which warped itself into a big "V" in the oven. Does anyone have a baking sheet that doesn't warp? This is one of those Chicago metallic ones that feels so heavy and sturdy, but it's a piece of junk just like the last one. My square ring won't fit on my black steel pan, but maybe I can find a bigger one of those. It's annoying to look in the oven and see your tart's filling hanging on for dear life, teetering near the rim. Any bakeware recommendations are appreciated.