Culinary Secrets—smoked paprika and white balsamic vinegar
In a previous post on man-pleasing dinners I mentioned spreading chicken with a paste made partly of smoked Spanish paprika. What I didn't tell you was that I first learned about this spice in the pages of our very own Pittsburgh Post-Gazette (motto: "one of the world's great newspapers") in an article by long-time food writer Marlene Parrish, back in 1999 or so. Parrish and her husband were introduced to the paprika on a trip to Europe, and she described actually going to the huts or shacks where they smoke the peppers, and smelling the intoxicating aromas there.
This was before you could order almost everything over the internet, and Parrish said the only place she knew of to buy the paprika was from a shop in Seattle called The Spanish Table, which now has an internet site. Shortly thereafter I attended a conference in Seattle with Poppy, and I went out of my way to find the Spanish Table and buy the smoky paprika in all three varieties, the sweet, bitter-sweet, and the hot.
It was well worth the trip, as this is truly a wonderful seasoning. I use it to make a paste for coating roast and grilled chicken, in barbecue and grill rubs for meats and fish of all kinds, as well as when I'm using the smoker, in chili, in stews and goulash. A word of warning about the hot, or picante—it's really HOT, almost as hot as cayenne pepper, so until you get familiar with it be careful! The other two can be used by the tablespoonful. Considering that the Wall Street Journal named smoked paprika one of the top five seasonings of the year, Ms. Parrish (and thanks to her, me!) was well ahead of her time.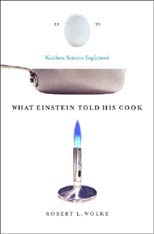 A side note on Marlene Parrish—her husband is the author Robert L. Wolke, whose clever and amusing book, What Einstein Told his Cook, skewers pretensions and explodes myths of many of today's top gourmet chefs and food writers, including the idea that "natural sugar" is better for you, and that certain salts, like those from the Dead Sea, or the famous Fleur de Sel, actually taste better and impart valuable vitamins and minerals and are worth ridiculous amounts of money, or that washing mushrooms makes them absorb water (a whole industry has grown up around that one), and my favorite—that marble pastry boards are better because they're colder, when they couldn't possibly be colder than the room they are in, they simply are poor heat conductors compared to wood or skin and that's why they feel colder.
My my last culinary tip and then I'll go away—try using white balsamic vinegar in your vinaigrette instead of the dark balsamic vinegar. I have more people saying my dressing is delicious and asking me how I make it, and asking for the secret. My proportions are about three to two, olive oil to vinegar, a big spoonful of Dijon mustard, some crushed fresh garlic, about 2 T. salt, and freshly ground pepper.