Cooking 101, Leland's salad dressing
Mark Bittman has a nice piece on salad dressing in this week's dining section. He writes off most bottled dressings and insists that "taking two minutes to combine extra virgin olive oil, vinegar and a couple of real seasonings is an enlightening experience, one that can make you vow to leave the mass-produced concoctions of cheap oil, water (more water than oil, if it's low-fat), dried spices and hideously unnatural chemicals on the supermarket shelf." I couldn't agree more.
If someone opens a bag of lettuce and a few other bags of various salad toppings and teams it with a bottle of dressing, I'll eat it and never think of it again. However, I'm always disappointed when someone has gone to some kind of trouble to wash lettuce or chop vegetables or cheese, all just to overshadow his work with a heavy pour from the oily bottle of Newman's Own dressing that's been in the refrigerator door for six months. Salad takes time and care, and I appreciate a beautiful homemade salad as much as the rest of the meal.
Mom taught me to make salad dressing when I had my first kitchen several years ago. I had never tasted a bottled dressing at that time, so it wouldn't have even occurred to me to buy one. My dressing is slightly different from hers, and she probably wouldn't like it very much, as I prefer it strong with the taste of vinegar and mustard.
If you're eating salad every day or even twice a week, it's worth getting in the habit of whisking yourself up a bit of dressing. As far as I can tell, you don't even have to refrigerate it, although I do it out of habit. Adjust the flavorings to your own taste; it helps to mix it in a measuring cup or a dressing shaker, like this vintage Tupperware beauty that Uncle Ted gave me: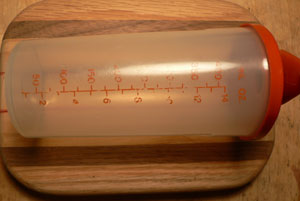 because you can keep an eye on how much vinegar you're using and what you like. At this point, I do it in a bowl and know that I'm done when the dressing coats the side of the bowl in a certain way.
For enough dressing for a big salad, start with 50 milliliters of balsamic vinegar (Mom prefers white, I prefer dark). Whisk in about a teaspoon of whole grain mustard and a bit of salt and pepper, and a squeeze of lemon juice if you happen to have a cut lemon. Begin to pour in extra virgin olive oil while whisking. You'll need at least 100 milliliters, but it will be to taste and according to your own preferences. Before serving, give it a final whisk to emulsify it well. A bit of garlic or shallot or soy sauce is nice, but keeping it simple is nice too.
I hate pouring dressing on my own plate. If it's at all possible, toss the dressing with the salad so that every (well-spun) leaf is lightly coated. All of this information is probably old-hat to most of Eat's readers, but we've been in a 101 spirit recently. This is exactly the kind of information I needed years ago, and I'm sure someone, somewhere, will benefit from it.