Collard greens from FreshDirect
When you order collard greens from FreshDirect, they show you a dainty bunch of greens and estimate that its weight will be 1.5 pounds. After ordering them twice, I think I've learned my lesson: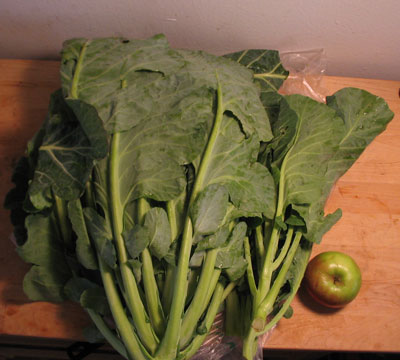 FreshDirect must have machines with giant claws packing leafy greens, because each time I ordered I ended up with nearly four pounds. Neither time could I fit the bunch in my crisper, and like last time, there's just no way we're going to finish eating all of this. I complained to FD last time and never heard back. I didn't want a refund, but I wanted them to let someone in the produce department know that they were overstuffing. As you can see, they gave me one huge bunch and two smaller bunches. Who do they think they're fooling?
n8, a southern boy at heart, was gracious enough to further illustrate the immensity of our collards: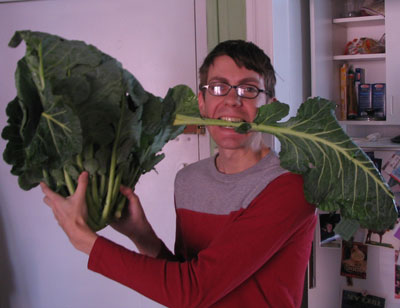 Thanks, n8.