Chocolate chip cookies to die for
I did it! Thanks to Luisa, I tried Debbie's recipe for The Best Homemade Chocolate Chip Cookies in the Entire World. Debbie isn't kidding—these are the cookies I've been after. Sweet but salty, chewy five minutes out of the oven and all the way to the edges. In a word, perfect. The key seems to be refrigerating the dough for an hour before baking. The resulting hard dough was daunting, but I used my fingers and formed little balls on the parchment paper, and I ended up with nine perfect cookies (I halved her recipe since I only have one cookie sheet, and I ended up with nine, which is more than enough for the two of us.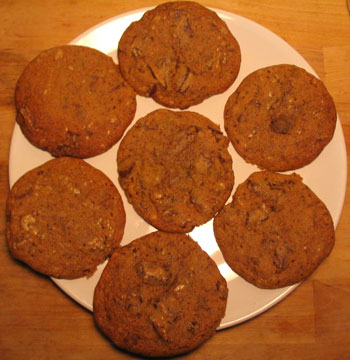 For chocolate, I used a 4-ounce bar of Ghiradelli semisweet baking chocolate, $2.99 at d'Ag. I prefer having bigger chunks mixed with little shreds to having uniformly sized chips, but either way would be fine. I also mixed by hand (ok, n8 did that. He said "Who needs a KitchenAid when you have a NathanAid?"), but I just ordered the nine-speed mixer from amazon, which they have for $60, and which has an average rating of five stars. I hope that will inspire me to bake one thing a week, which is sort of a New Years resolution of mine.