Chicken stock for rich people
I'm having a love affair with Alice Waters's new book. It's a tidy little collection of essential recipes, with plenty of truly useful commentary about everything from making pie crust to braising meat correctly. I intend to spend quite a bit of time with Alice this year, as she hasn't let me down yet.
One of my resolutions for 2008 is to stop buying boxes of chicken stock at the grocery store. Michael Ruhlman's Thanksgiving post convinced me that this stuff isn't of the best quality. Store-bought stock is expensive and heavy as well, and of course I don't have a car. So once or twice a month, I spend a Saturday simmering a bird with vegetables and then packing it up, keeping some in the freezer and some in the fridge. Having some good stock on hand makes cooking easier and more fun. Your regular old rice or risotto is more flavorful, your soup is headier, your braised chicken legs are birdier.
Alice Waters has a stock in her book that costs a small fortune to prepare. It would be cheaper to buy boxes and take a taxi home. She wants you to use a whole four-pound chicken. I don't know what a chicken costs in your grocery store, but at Fairway in New York it's close to $10. I'm sure there are cheaper chickens to be had, but I went ahead and used Murray's so as not to upset Alice and have her put a hex on my stock. The preparation is simple, but time-consuming. You need the better part of a day for it, whereas a lot of stock recipes demand just two hours or even less. You'll be glad you did it, though. The stock is thick and delicious.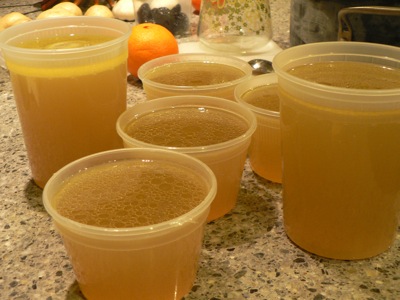 Put a whole chicken in a large pot. Cover it with 1.5 gallons cold water. Bring it to a boil over high heat, and then turn the heat to low. Skim off any foam continually throughout the day.
Add a peeled carrot; a peeled, halved onion; a head of garlic cut in half; a celery stalk; salt; and 1/2 teaspoon black peppercorns. Add parsley and thyme sprigs and a bay leaf (in a sachet if possible, but I don't think it matters). Simmer for four to five hours. (You can remove the breasts after an hour or so and eat them for lunch.) Strain the broth, through cheesecloth if you have it. If not using the broth immediately, cool it over an ice bath and then refrigerate or freeze it. Do not pack it up while it's still hot or warm, as this could cause it to ferment. Don't worry about the fat; it will be easier to remove once it's cold.
If you're still feeling Alice, use some of your shiny new broth to make her exquisite braised chicken legs.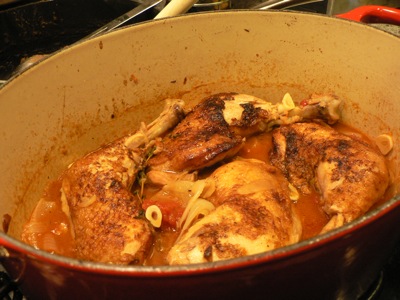 Braised chicken legs with tomatoes, onions, and garlic
4 chicken legs, seasoned a day or a few hours in advance with salt and pepper
Olive oil
2 onions, sliced thickly
4 garlic cloves, sliced thinly
1 bay leaf
1 rosemary sprig (I used thyme, although she doesn't even offer thyme as a variation)
1/3 cup white wine
4 diced tomatoes, fresh or canned (I used half of a 28-ounce can of tomatoes with their juice)
1 cup chicken broth
Preheat the oven to 325ºF. Heat the oil in a large skillet until very hot. Brown the skin side of the chicken, in batches if necessary. Alice advises you to put the chicken down and leave it be for 12 minutes. You want it as brown as possible without burning. Once the skin side is ready, flip the legs and brown the other side for about five minutes. I did my legs in two batches, replacing the fat and wiping out the pot in between, since the oil was turning black (this contributes to cancer, I hear). Browning in two steps was tedious but worth it. The last thing you want is a crowded pan, which will give you flabby, steamy, unappetizing skin.
Remove the chicken to a plate once it's well browned. Clean out the pot carefully (I hold a paper towel with tongs!). Add a bit of fresh oil, and cook the onions until they are translucent. Add the garlic and herbs and cook a few minutes more. Deglaze with the wine, scraping up the brown bits. Add the tomatoes, and arrange the chicken in the pot. Add stock until the liquid is halfway up the sides of the legs. Bring to a boil, lower to a simmer, cover, and cook in the oven for 45 minutes. The meat should be exceedingly tender. Remove the chicken and reduce the sauce to your liking (removing the herb sprig). Return the chicken to the pot and serve it forth.