Chicken livers
I'm still on the edge of fainting after preparing chicken livers for dinner. It was my first experience with these velvety little organs, and quite frankly I'd prefer to go hungry.
Flipping through the September Gourmet with mom over the weekend, we came across an appealing recipe for chicken livers with grapes and caramelized onions. I like chicken, I like grapes, and I can eat caramelized onions for dessert—why not try cheap and abundant livers? I figured that no matter how unappealing the organ meat was, I'd have all these other good things on the plate to distract me.
Think again! Emily B was nice enough to talk me through the washing and separating of the lobes, telling me how difficult it was for her to handle calf liver the first time she made pâté. It gets easier the second time, she insisted. Well, there isn't going to be a second time. I'm just not convinced that I can eat anything that must be separated into lobes.
The dish looks as good as it sounds: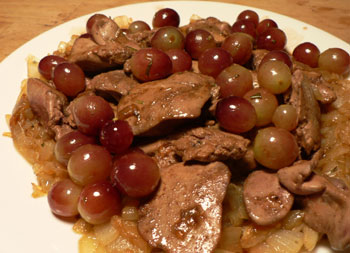 But I took one bite of one liver and that was it. I hate to be a baby about this, but the texture of liver is the opposite of what I want to eat, and it makes me want to purge. Chianti was on the table, so I couldn't even use drinking to make me forget what was in front of me without Hannibal Lecter whispering in my ear.
Speaking of foods new to me, I ate rabbit for the first time today for lunch. Do any of our New York readers know a good local source for this delicious, approachable meat?