Caracas Arepas Bar
Mom and I had an excellent late lunch this afternoon at Caracas, an arepas place on East 7th Street just east of 1st Avenue.
The Times said that the place had recently expanded, which we could hardly believe as we sat at the miniscule bar in the postage-stamp room. Tonight, we learned that there is an adjacent room, because no way were there 34 seats in the room we ate in. The size of the room, however, did not detract whatsoever from our delight in the scrumptious food.
We only had two small plates, because it was late and we had dinner to think about.
First, the guasacaca: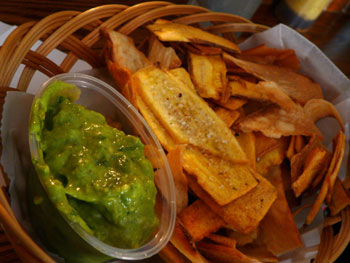 I do not love guacamole as everyone else seems to, and I don't know what makes this Venezuelan version different. But it was creamy and flavorful, and it disappeared with the help of salty, fried yuca chips.
Next, the first arepa either of have ever had: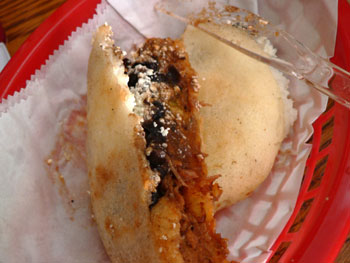 I could happily eat two of these dense, crispy little nuggets of savoriness and call it a meal. Ours was stuffed with shredded beef, black beans, fried plantains, and salty cheese, and I can't wait to eat another one.
For $12.95 with a drink, this lunch was a bargain.
Update 8/29
We just had dinner in the bigger half of Caracas. The food and atmosphere were good, and it's BYOB! Unfortunately, the waitress sort of shooed us away from our table right after our food was cleared, and now I have a tummy ache.