Can she bake a cherry pie
If you like cherry pie as much as we do you should make your own, as bakeries use horrible, over-sweetened and over-thickened canned filling. Unfortunately the season for fresh sour pie cherries is only about a week long, so unless you have a source for frozen pie cherries you are forced to use the ones that come in a can. You CANNOT make a cherry pie with sweet, or Bing cherries; it just won't taste right. Most recipes call for almond extract but I prefer vanilla. You can use more sugar if you want, but we like ours on the tart side; better with a scoop of vanilla ice cream on top!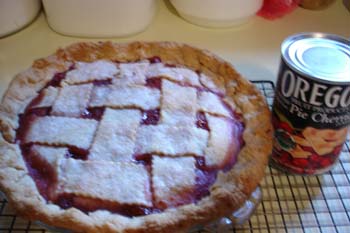 3/4 cup sugar
3 tablespoons cornstarch
2 cans tart red pie cherries
1/2 teaspoon vanilla extract
pastry for double crust 9-inch pie
Preheat oven to 400°F. Drain the cherries and reserve the juice from only one can. Mix the cornstarch and sugar together in a saucepan and stir the reserved juice into this mixture. Cook over medium heat, stirring constantly, until thickened and smooth. Remove from heat and gently stir in cherries and extract. Taste and add up to 1/4 more cup of sugar if you want it sweeter. Pour filling into pastry lined pie pan and top with traditional or lattice crust. If traditional crust vent for steam. Crimp edges, place in oven and bake 30-40 minutes until crust browns and filling begins to bubble. If necessary cover edges with foil during final 15 minutes to prevent over-browning.
Cool pie several hours to allow filling to thicken before slicing.
This recipe was adapted from the one on the Oregon Cherry can, and I'm pretty excited about it because for the first time in my life I made a lattice-top crust. I have always been pretty much a hurry-up-and-get-the-pie-in-the-oven-girl, thanks to washing cloth diapers and all, but I figured if I don't make the occasional lattice crust now, when would I? I'm 53 years old, I don't work, I only have one child at home these days, and if I wait much longer I'm afraid I might drop dead taking so long to make a pie, along the lines of George Burns' being afraid to buy green bananas.
Anyway, I think it came out pretty well for a first effort! I know it will taste good because I have made this recipe many times, just not with the lattice crust.
Note—Canned tart cherries are NOT the same as canned cherry pie filling and can be a little hard to find. Sometimes they are shelved with the canned fruit and sometimes in the baking aisle of the grocery store. They are a little expensive, too, usually between $3.00 – $4.00/can.