Café 2 at MoMA
Yesterday wasn't the first time I've been to Café 2 at MoMA, and it won't be the last. Not only is it the best museum food I've ever had, it's the only museum food I've ever liked. What is it about museum cafés that strikes fear into the hearts of eaters? Science centers, aquariums, museums, and other tourist destinations tend to have the most abominable food imaginable, and at crazy prices to boot. Sad, cardboard hamburgers and mushy fries, cartons of milk and insipid bananas. This is what I expect when forced to eat in these hellholes, and it is not at all the case at MoMA.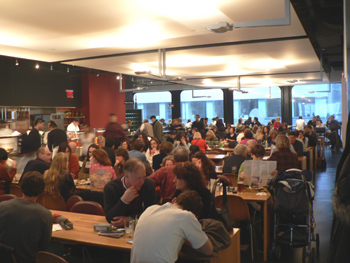 Café 2 is fancy and doesn't pretend to be anything else. It is upscale, pricey, and honest about it. Nathan and I shared delicious lentil soup and a very hearty appetizer of roasted brussels sprouts for about $16, including two coffees (with free refills).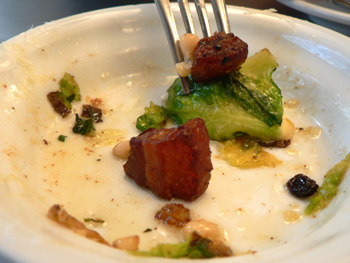 The brussels sprouts are as good as ones I've made at home, but they are overshadowed by the sweet, savory, and addicitive little nuggets of pancetta mixed in with them. I've put pancetta with sprouts before, but never with these results. It tasted as if it had been coated in brown sugar or maple syrup. Whatever it was, if I worked there I would never stop eating it.
If you can afford the hefty admission fee to the museum (easier when your best friend works there), don't hesitate to stop for a snack, even if you see a line snaking past the coffee bar. The line is fast, and the service is gracious.