Butternut squash soup and Via Emilia
I have been sick and not really cooking since our dinner at Country on Monday night, so I apologize for not having posted at all since then. I haven't been hungry. I did make a pretty tasty butternut squash soup on Tuesday, though, since soup was all I wanted with my dry cough. I had never made butternut squash soup before. In fact, I don't think I had ever made a soup from scratch before at all. I didn't even like soup until a few years ago. And I still don't like gazpacho. It's not the flavor, obviously, because soup can taste like anything. It's the format.
Here's me making the soup. Just looking at this picture is giving me a queeny surface space panic attack. Could I have any more junk on my counters? Does the magnum of table wine really need to be right there?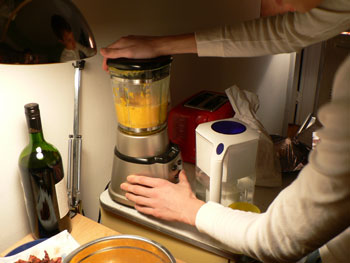 Here are the goods: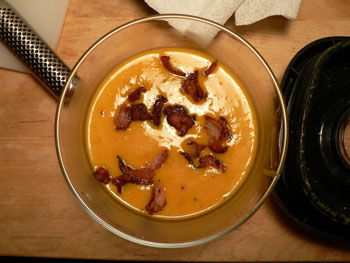 I cut up a whole butternut squash, an onion, some garlic, some whole wheat bread, and an apple, and I simmered it all in chicken-butternut broth (which I made by simmering the seeds and fibers from the squash in the broth, like in my favorite risotto.)
Of course I added some crispy bacon bits, but that was about as special as I could make it in my condition. I was achy and getting chills while at the stove, and I got in bed immediately after we ate.
In other news, I had an excellent and inexpensive dinner last night at Via Emilia on Park Avenue South. Sabena has been recommending it for months, and I finally went with Meaghan and Giovanna. They have this crazy appetizer called gnoccho frito. It consists of these big, puffy, crispy pillows of dough into which you stuff delicious cured meats like salami and soppressata. We ordered two for the three of us, but one would have sufficed ($6.50). For dinner I had tortelloni stuffed with chicken and wild mushrooms, drizzled with truffle oil ($14.50). Just about all of their wines are in the $20s, including the chilled, sparkling red Lambrusco, which I personally didn't enjoy one bit!