Butternut squash race
Responding to this challenge from my mother: "Three minutes to peel, seed, and chop a butternut squash?! As if!! Even the Iron Chef can't do it that fast!"—which was in response to my saying that I could prep a butternut squash in three minutes, and that it would taste better than buying it cut up from Trader Joe's—I decided to put my money where my mouth was.
Pictured below are the 2.5-pound enemy and my tools:
Tell the kind folks don't worry—that ain't nothin' but my hammer suckin' wind—it keeps me breathing.
Two minutes and fifty-seven seconds later (ok, a few seconds longer to get the trimmings organized), we have: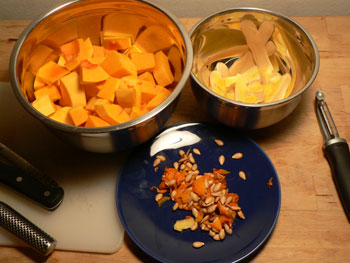 Forty-five minutes later, we have butternut squash risotto with slightly overtoasted pine nuts: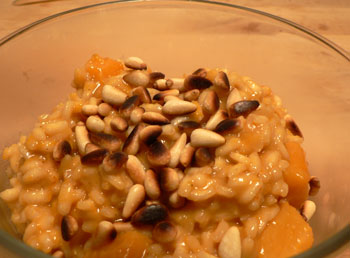 Next!