Butternut squash purée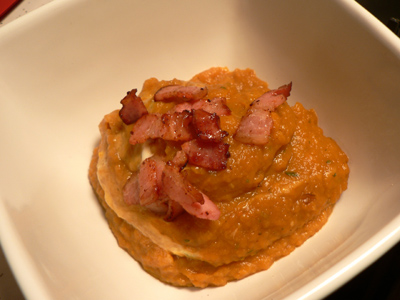 I intended to make butternut squash soup last night, but I ended up with a purée instead. This didn't bother me, but I think Nathan might be worried about the state of dinner here on 11th Street, especially when I serve such meals with applesauce on the side! Sometimes you can barely tell two dishes apart.
To make this purée, I caramelized a few sliced onions in butter. While those were cooking, I peeled a small squash and simmered its seeds and fibers in chicken stock along with rosemary and garlic. I sautéed the chopped squash with the onions, and once it had caramelized, I strained the stock and poured it in. When the squash had softened, after just about ten minutes (during which time I was sautéing bacon), I ran the bubbling mess through the foodmill, added a couple tablespoons of crème fraîche, and sprinkled the crispy bacon on top.
There was nothing to dislike in this purée, but I was hoping that the sweetness of the squash would be more apparent. I always want things to be sweeter (not in a sugary way, but in their own natural way), and I'm trying to learn how to coax sweetness out of things without adding sugar to dinner. Using water instead of chicken broth would be a good place to start in a preparation such as this one, but don't you think it's hard to put water in something when the broth is sitting right there?
Do you have a good method for sweet, simple butternut squash soup?
Speaking of fall flavors, do yourselves a favor and check out Barletta's post on gingersnaps. I can vouch for them, having once eaten about 18 in one sitting.