Burrata and free steak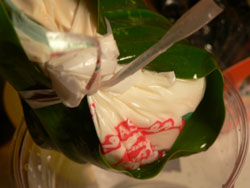 The Wednesday Chef has steered us right yet again—burrata is delicious. On my way home from happy hour on 17th Street, I figured today was as good a day as ever to obtain this stuffed-mozzarella wonder from Garden of Eden. I didn't have the time or clear-headedness to make Russ Parsons's recipe properly, so I just served the cheese on little squares of pumpernickel bread with Maldon and pepper. We cleared two plates of them while catching up on Lost and The OC.
Incidentally, Garden of Eden has fresh morels for $40 a pound. This is the first time I have seen fresh morels—is this a good price, and are they worth buying? Dried ones are obtained easily enough from FD or Whole Foods.
When FD finally arrived tonight at 9:30, they brought with them 1.8 pounds of marinated skirt steak …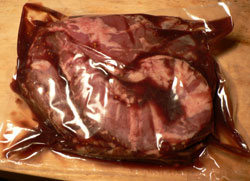 …for free. Skirt steak is a consistent favorite of mine in the steak department, which I frequent very rarely, as I think steak is mostly an expensive waste of chewing. This morsel was huge and tasty. I simply seared it in a hot cast-iron skillet and served it medium rare, with rice.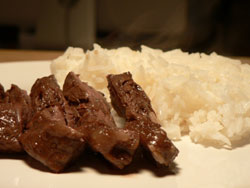 FreshDirect is running promos like this all summer, giving away other pieces of marinated meat and things like cherry pie and vegetable kabobs. Keep your eyes open.